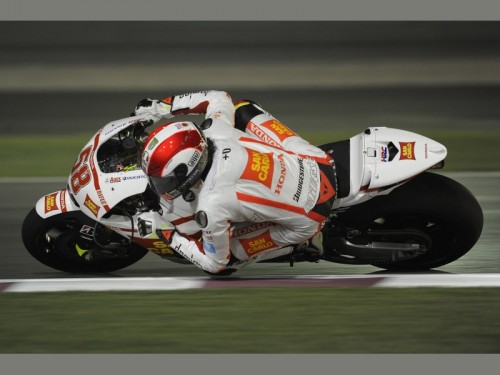 Aragon is a new circuit on the MotoGP calendar this year and it was drafted in as a replacement for Hungary (which was not completed on time). The Aragon circuit is located between Zaragoza, Barcelona, Tarragona and Valencia.
Marco Melandri goes to the circuit knowing that he will be leaving the MotoGP series at the end of this season to go and compete in World SuperBikes with Yamaha, and Marco Simoncelli will be continuing his battle to be MotoGP's second fastest rookie (behind Ben Spies).
Both riders give their thoughts below on this weekend's Spanish MotoGP.
Marco Melandri
"I really want to get back on track and forget about a really difficult weekend at Misano. It started out in the worst possible way on Thursday night at the DediKato event, when Capirossi and I tried to liven the evening up but it didn't go as I wanted and unfortunately there was a misunderstanding which I am very sorry about. Then on Sunday there was the Moto2 race with the terrible incident for Tomizawa in the same corner where I had a bad accident myself in 2007. I was really upset because I had raised my concerns at the time about the artificial grass, which is too close to the rumble strip, but nobody listened. I will bring it up again this Thursday at the Safety Commission. To cap it off I had another forgettable race in which we struggled once again because of my lack of feeling with the bike. In any case, after the Moto2 race I had lost any excitement to race. At Aragon I want to make the most of every single minute of practice to try and rediscover the feeling we found at Silverstone before the crash. I'm not expecting miracles but I'll do everything I can to have a good race."
Marco Simoncelli
"Immediately after the race at Misano I heard about the tragic incident involving Tomizawa and I was so shocked and upset I didn't spend a second reflecting on my own result. Over the past week I have been able to think back and I am disappointed with my mistake, which compromised the final result. It was a shame because I was riding well, I was right behind the top five and with a good advantage over Edwards. I could have brought home a solid result and I would have been satisfied with that but I threw it all away with a silly mistake. It was a shame but we will try to make up for it at Aragon. We have an extra session to work on the bike and we'll start out with the base setting from Misano, which was working well for us and I had found some confidence. I know some riders have done a few laps here and Valentino Rossi has told me that the track is really nice, with fast corners and elevation changes – unlike Misano! It should suit me so I am confidence I can have a good race."
Fausto Gresini
"Aragon will be a new circuit for everybody so we go there looking to learn it as quickly as possible with the benefit of an extra session on Friday morning, like we used to have. We came away from Misano with very little to show for both riders and with two thirds of the season gone I'm afraid to say it has been below expectations so far. Melandri has had more than a few problems establishing a feeling for the RC212V and just when it looked like he had found it at Silverstone he crashed and lost confidence. Simoncelli has made consistent progress and has shown his potential on several occasions but so far has been unable to take that next step up. Both our riders have struggled with the electronics since we received the new package at Laguna Seca. The extra session at Aragon should help us find the right solution and finally get the best out of this new and important technical component. There are six races left in this championship and together with the riders we will do our best to achieve the results that have escaped us so far."
Popularity: 2% [?]