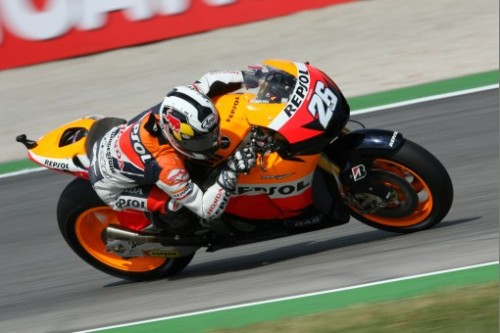 The battle of the Spaniards continues at Aragon this weekend – Dani Pedrosa goes to the circuit on strong form after winning the last two races, but he will have his work cut out for himself as Jorge Lorenzo is already drumming up Spanish support and staking his claim to a podium finish. Aragon will be the third Spanish MotoGP this year and both Pedrosa and Lorenzo's fan-clubs will be out in force at the circuit stoking the atmosphere up.
Pedrosa has put his recent form down to the steady improvements to his RC212V and the fact that the new parts and ideas received from HRC earlier in the season have now had time to gel together.
Dani Pedrosa, and Repsol Honda team-mate Andrea Dovizioso look ahead to the Spanish GP.
Dani Pedrosa says:
"I'm looking forward to arriving at MotorLand Aragon and trying the new track on the RC212V. I did some laps in July with a Honda CBR1000RR street bike and I really enjoyed the layout – I loved the circuit. It's very different to the ones we are used to racing at in the MotoGP championship, and so it will be really interesting this weekend. The circuit combines fast and slow corners which are quite technical, and the last straight and finish line section is going to be amazing. There are also some blind turns where you need to look for references outside the track. The facilities are very high spec and it looks like the fans are in for a treat at this race. It's always very nice to race in Spain and I can imagine that the atmosphere will be incredible; I'm looking forward to meeting the Spanish fans again. Me and the team also arrive in a very good mood thanks to the great job we have been doing and our good results in the last races. It will be a challenge for everybody this weekend and we need to make the most of the practice sessions – in this area we have improved a lot in the second part of the season. Our bike has been working well at very different circuits, so I hope we can also do a good job in Aragon. I'm really looking forward to this Grand Prix."
Andrea Dovizioso says:
"I always enjoy the challenge of racing on a new track where no one has prior knowledge and we can all start from zero, so I'm especially looking forward to this race weekend. I had the chance to do some laps on a CBR1000RR last week which was good fun and let me learn the basic layout and get some ideas on how to start the machine set-up for the RC212V on Friday. It was actually the first time for me riding on a track with a street bike, and I enjoyed it. The Aragon track is really nice, it has a lot of elevation changes and many of the braking areas occur where the bike is leaning over, which makes it quite technical and means there are many points where it should be possible to overtake. Because of this I think we will see a very good race. For us it is important to have an idea of the track in advance to give us a head start with the set-up of the RC212V. We are very determined to score a good result in Aragon. At Misano and in the previous races we have been fast and close to the front, but now we need to take the final step and convert that speed into a strong result at the end of the race. This is the target for the weekend."
Popularity: 1% [?]