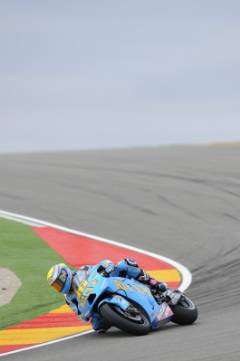 Álvaro Bautista made steady progress during today's final practice and qualifying sessions at Aragon in Spain to earn himself a fourth row start for tomorrow's race.
Bautista (P12, 1'50.523, 21 laps) improved throughout the two sessions before posting his fastest lap of the day right at the very end of qualifying. He was hampered in this morning's practice by a crash, but was able to walk away and return to the pits completely uninjured. Bautista's race pace throughout the day was very consistent and the improvements he has made in his riding and to the bike's settings look like giving him a competitive edge in Sunday's race.
Today's qualifying was held in warm and sunny conditions with track temperatures finally heating up to a respectable 26ºC after yesterday's heavy rain. Casey Stoner took pole position on his Ducati, with World Championship leader Jorge Lorenzo and Dani Pedrosa filling the remaining front row places.
Álvaro Bautista:
"Today I have improved my lap time and I'm quite happy with the progress we have made. I crashed this morning and lost some time, but fortunately there wasn't any physical problem for me. I tried two different gearboxes in this morning's session and we chose the best one and concentrated on riding with that one this afternoon. With the race tyre this afternoon my rhythm was not too bad and when I put on the softer compound rear tyre at the end of the qualifying session I was able to improve my times. The grid position is not that good, but we are very close to the guys in front. If I get a good start tomorrow I feel confident that I can fight to be in the top six. The positive thing about my qualifying time is that I did it on my own and didn't follow another rider – like some of the others guys out there did. I want to have a good race here tomorrow because it is another home event and I have a lot of fans here to support me, so it is important I put on a good show for them."
Paul Denning – Team Manager:
"Álvaro's made big steps forward today, but despite that he is far from happy with 12th on the grid, especially when just over half-of-a-second off his time would have seen him on the second row. His race pace is very consistent and the bike is very stable on the brakes, so he is hoping to make some aggressive passes tomorrow in the early laps and fight back towards the front group as quickly as he can."
Popularity: 1% [?]