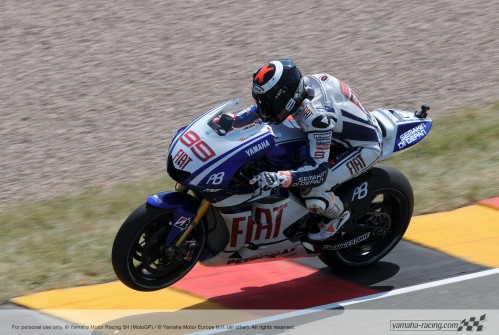 The Fiat Yamaha team were the main focus of the qualifying session in Sachensenring today as Valentino Rossi marked his return to MotoGP after missing the last 4 races with a broken leg, and Jorge Lorenzo continued his dominant form to take his 4th consecutive pole position.
Lorenzo was also in the spotlight when he suffered an engine failure during the qualifying session that spilled oil on to the track causing Ben Spies and Randy de Puniet to crash out.
Jorge Lorenzo – Position: 1st Time: 1'21.817 Laps: 36
"Since the new engine rule everyone has been starting to feel like these engines never have problems and it was honestly a surprise for me today when I came onto the straight and felt it stop! It was so hot and there was oil on my feet so I had to go into the wall. I'm really sorry that Ben and Randy crashed and especially that Randy was slightly injured, it is good news that he will be able to race tomorrow. This pole position was very hard because Casey and Dani were so fast; I had to push at the maximum and ride really well. Well done to my team because we have improved so much since yesterday and now I'm looking forward to the race tomorrow."
Valentino Rossi – Position: 5th Time: 1'22.395 Laps: 33
"I am really happy after this second day because I feel confident on the bike. I have suffered more today because we've had two sessions instead of one and I have some pain and I'm more tired than yesterday, but I feel good and my movement is okay. Also the shoulder feels fine so it's definitely a positive return for me. Unfortunately today at the end we tried a small modification to improve the setting but it made it worse, so I think we lost one position for this. I don't think the front row was possible because Lorenzo, Stoner and Pedrosa went under 1'22 and I don't think I could have done that today. For tomorrow of course there is a question mark but I hope to be able to finish; I think the podium will be difficult for me but top five would be a very good result.
Wilco Zeelenberg – Team Manager
"Compared to yesterday we have improved the setting a lot and this morning Jorge was already able to improve by a few tenths in every section. This afternoon he felt good on the bike again and both types of Bridgestone tyre are working very well. It was another strong performance from him at the end, as we've become used to lately, but it was quite close and it will be a tough race tomorrow. As for the engine, we now have one less from our allocation of six and we need time to understand what happened; luckily it wasn't a new engine, it's been in use a long time but it's never nice when something like this happens. We're very sorry for the riders that fell and especially for Randy because he has some pain, things happening at that speed are always dangerous and we wish him our best and very much hope it won't affect him in the race tomorrow."
Davide Brivio – Team Manager
"A very good session; if we'd known two days ago we would be qualifying in fifth we would have been very happy. Things are going well with Valentino's condition and so as a result we're feeling more and more competitive as time goes on! We're working hard on the bike setting and his leg and shoulder seem to be reacting well to the pressure. He is already quite fast and the second row is good for us. We have to wait and see how he gets on in the race tomorrow because 30 laps is a lot but we have a good starting position and I expect that his racing attitude will prevail! We are very happy to be here, to have got through the practice and whatever happens tomorrow it is all a bonus."
Popularity: 1% [?]