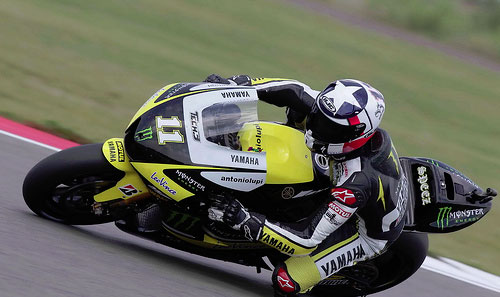 Ben Spies once again showed MotoGP fans what he was capable of on a satellite bike by taking 4th place in the Dutch MotoGP.
Spies immediately made a good start from 4th position on the grid to take 2nd position on the first lap. Spies tried to tuck in behind Jorge Lorenzo who started to charge away from the rest of the pack from the off. Dani Pedrosa and Casey Stoner soon closed up to Spies, and it was clear throughout the whole weekend that they had the faster pace and that Spies would not be able to hold them off for long – Spies held them off until lap 4 when they got through and left Spies in 4th position.
Spies later found himself in a battle with Andrea Dovizioso who claimed 4th position for a period of the race, but on lap 16 Spies had closed the gap and mounted a challenge that culminated in a strong overtake on the final chicane and managed to hold the position to the finish line ending with a 2 second lead over Dovizioso.
Colin Edwards has a solid but unremarkable performance to take 8th position.
Ben Spies 4th 49-points
"I got a good start and was happy with that. I ran the soft rear tyre because it made the front load better for turning and the track temperature was hotter than all weekend. But it didn't work as well I'd hoped in the first ten laps and then when Dani and Casey came by I knew I was holding them up. But I was sticking with my game plan. I tried as hard as I could and 12 laps in Andrea passed me. But then his tyres dropped down to where I was with mine and I reeled him back in. The podium battle had gone away and then over the last three laps I heard Andrea and Randy putting the pressure on. I put my head down hard and managed to open a gap. I was sliding a lot but I managed to stretch away and I could cruise the last lap. I wanted at least fourth place today and I'm happy but I didn't have the pace for the podium like in Silverstone. I'm happy with the result and we go to Catalunya next week not knowing the track and I think we will be a little bit on the back foot again. But I'll do the same as the past two weeks and push as hard as I can."
Colin Edwards 8th 34-points
"I can't be disappointed or upset with eighth place and wonder why I didn't get a better result when I rode my heart out. There was nothing else I could have done today but I know what we can improve. We've been experimenting with some different front-end settings and we've made it better, but I just lose a bit of time when I release the brakes and can't turn the bike how I want. And losing that little bit everywhere adds up by the end of the lap and makes it difficult. I know I rode harder than last year when I finished fourth, but I'm eighth. I guess that proves that those guys at the front are running an unbelievable pace. I was behind Nicky for a long time but I could never get close enough to put a pass on him. Looking at Ben it can be better and once again, I can't praise him enough. He's riding really good and I have to congratulate him because at the last two races he's been really impressive."
Herve Poncharal – Team Manager
"I can't say enough good things about Ben. He made an incredible start and he almost took the lead. We knew Casey and Dani would push hard and in the first few laps I don't think Ben had a great feeling with the bike. But he dug deep and continued to push and I have to give him enormous credit for that. Dovizioso and de Puniet were pushing really hard at the end but Ben's strength is his pace on used tyres and he demonstrated this again. Being greedy we'd have liked to be on the podium again but fourth showed he is the best of the rest of the moment. His confidence is really high and he's proving a massive asset for the Monster Yamaha Tech 3 Team. Colin had a strong race and after Silverstone he found a direction with the bike, which we hope will work in the future. He was pushing hard and never gave up and the points he scored have helped us move back into fourth place in the Team Championship. That is very important for us. I said that in 2010 the Monster Yamaha Tech 3 Team had its strongest line-up ever in MotoGP and I think today again we proved that."
By the way, you should check out the recent Ben Spies interview that took place between Silverstone and Assen.
Popularity: 1% [?]