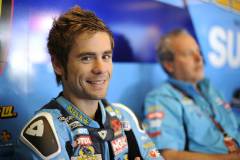 Álvaro Bautista and the Rizla Suzuki team are heading to Spain for his home Grand Prix this weekend to be held at Montmelo near Barcelona.
Spain is hosting a total of 4 GPs this year, and Bautista won't be short of support in each, despite his relatively poor performances this year, he remains a hugely popular figure amongst the Spanish fans.
The Rizla Suzuki riders talk below on their expectations and hopes for this weekend's Soanish MotoGP.
Alvaro Bautista:
"I have had a couple of days rest and my arm feels a lot better than it did in Assen and I am sure it will be much stronger this weekend. Barcelona is a very good track for me to go to next, because it is very long and very fast so it won't be as physically demanding as Assen. It is a very special place for all the Spanish riders because you can feel every fan pushing you and wanting you to go fast, so it is a very good feeling to be there. I won in 2006 in 125 and 2009 in the 250, so I have very good memories of the circuit and with it being my home Grand Prix I will be trying to get a good result for myself and the whole team – we really need one now so this will be a good place to start."
Loris Capirossi:
"We need to get back on track quickly to try and find a solution to what has been holding us back in the recent races. Barcelona is a good circuit for me and I know can go well there and that the GSV-R can perform there. The whole crew has been working hard at every race, but we just can't find the answers we need at the moment and with a back-to-back race like this and so little testing in the season now, it doesn't give you much time to make many major changes to work out what the problem is. These results are not good enough for anyone, but we are still focused on what we have to do and everybody in the team is still motivated that we will be able to turn things around very quickly."
Popularity: 1% [?]