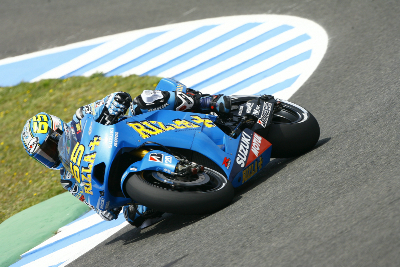 Rizla Suzuki got back to MotoGP action at Jerez in Spain today with both riders inside the top 10 after the first free practice session.
Loris Capirossi:
"We decided to take a bit of a risk today and make some big changes to the bike in the hope that it would help us take some big steps and for sure it has certainly helped us. I have to give a big thanks to everyone involved for letting us make the changes. We had a big meeting between my guys and Sahara san and it looks like we have solved one of the biggest problems we have. Overall we need to continue to work in this direction and I think we will make yet more discoveries that will help us. Today has been a good day for me and Suzuki and I think there is more to come!"
Álvaro Bautista:
"This is a new circuit with new reference points for me on a MotoGP bike, so it felt like I had to start working all over again. I tried to find a good line on the track and worked with the team to get a good base setting. At the end of the session I tried the softer compound tyres and I had a lot of grip from the rear and I was able to exit the corners much quicker, but I think I felt a bit too much movement from the front and I wasn't able to enter the corner like I could on the harder tyres, so that is something we have to work on tomorrow. We have a lot of work to do tomorrow and we will have to work very hard to get everything right. I think we are in a good position in the classification because we are in the top 10 and at my home GP I want to have a good race, but before that we have a lot of work to do on the bike and we must get a good setting so I can compete and enjoy myself!"
Paul Denning – Team Manager:
"It's been a solid start to our preparations for the Jerez Grand Prix. There is not a lot of space around this circuit for the big bikes to stretch their legs and I'm sure the GSV-R felt a bit of an animal to Álvaro on his first run around here on anything bigger than a 250. He certainly didn't look out of place during the course of the session and to be in the top 10 at the end is a very encouraging result.
"Loris has tried a very different set-up to that which he has used over the winter and there are some advantages, but as ever, there are also some disadvantages. Top six with a couple of problems is very reasonable and if we can make the bike a little easier and stable to ride through the fast stuff – but keep the rear grip that this setting has generated – then we can expect Loris to have a very competitive weekend."
Rizla Suzuki Photos from Jerez: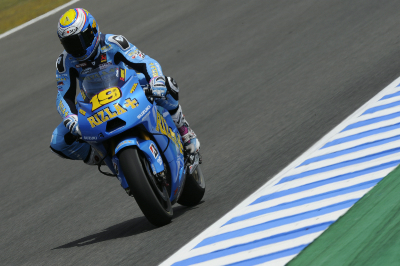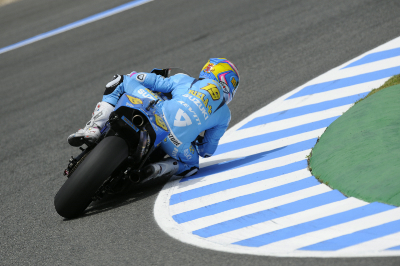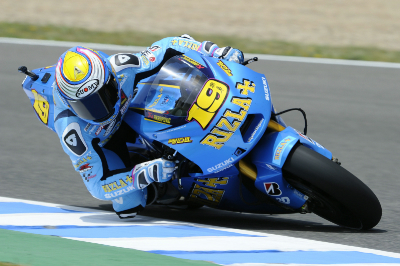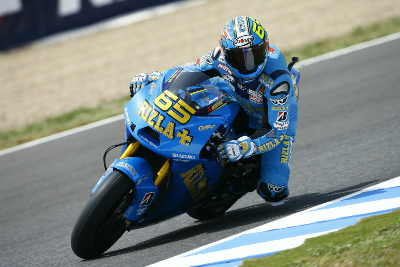 Popularity: 1% [?]