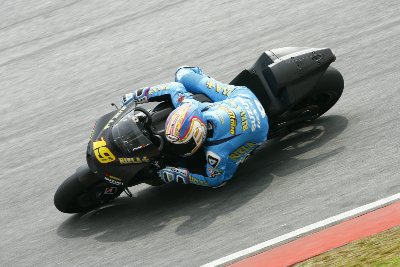 The second day of testing in Sepang saw MotoGP rookie Alvaro Bautista make a huge leap forward in his MotoGP education as he took 2.5s off his best time from the previous test as he continues to get to grips with the Suzuki GSV-R. Capirossi also had a positive test finishing in 6th position overall on day 2.
Suzuki started strongly in testing for the 2009 MotoGP season but failed to maintain their momentum and tailed off pretty quickly when the races started – something that the team will not be wanting to see a repeat of.
Rizla Suzuki Press Release and Rider Interviews:
Rizla Suzuki MotoGP has completed the penultimate test of the 2010 MotoGP pre-season schedule with some encouraging results from Sepang in Malaysia.
New signing Alvaro Bautista (2'01.732, 59 laps) made huge steps during the latest two day test at the 5,548m Sepang International circuit. Suzuki's new Spanish star shaved over two-and-a-half seconds from his fastest time from the previous test and is still certain there is more to come as he continues his acquaintance with the Suzuki GSV-R. Unfortunately his progress was hampered by a small low-slide crash on day one – from which he escaped unhurt – and a very large slide later in the same day which, although there was no crash, forced him to receive treatment to a torn muscle in his left arm. This restricted his performance on the second day and meant he was unable to get as much time on the bike as he wanted.
Loris Capirossi (2,01.320, 102 laps) showed his intent on day one of the two-day test by recording a time of 2'01.687 – nearly half-of-a-second better than his best time at Sepang earlier this month. He improved further still on that time during day two, delivering a quickest time of 2'01.321 to give him sixth place overall at the end of testing. Capirossi used the test to evaluate the 2010 'long-life' engine specification for the Suzuki GSV-R and was pleased with the preliminary results. He also completed a near-full race simulation in the later part of the day which resulted in interesting feedback and data.
Bautista and Capirossi recorded their best times on the harder compound rear tyres that will be the ones used in a race situation rather than the softer compound that will be most likely favoured as a qualifying tyre. Both riders also conducted a series of tests on new chassis components and various other performance strategies. The team was ably assisted by Test Rider Nobuatsu Aoki, who completed a thorough and comprehensive shake-down test on Wednesday to prepare the bikes for Bautista and Capirossi. The results of this – and the previous – test In Malaysia will now be analysed back at Suzuki's HQ in Hamamatsu to prepare the GSV-R for the final pre-season test at Doha in Qatar next month.
Rizla Suzuki will next be in action at the Qatar test in mid-March, this will be last chance Bautista, Capirossi and the engineers get the chance to improve the Suzuki GSV-R at a racetrack before the season kicks off with the first race of the season – also in Qatar – on Sunday 11th April.
Alvaro Bautista:
"I am very happy with this test and it shows that we have improved a big amount since the last test here. It was a bit of a strange day today because I did improve my time, but after nearly crashing yesterday I was in a lot of pain and it made it very difficult to ride, so I was not able to do too many laps. It has been a good test though and I am happy with the direction we are going in. I still need to get some parts of the bike improved and I am sure we will make more steps in Qatar. I feel very happy with most things at the moment, the team is very good and we are all working together very well and I am finally starting to ride the bike how I want to!"
Loris Capirossi:
"Overall the test has been not too bad and I think we are in a reasonable situation at the moment. I used the new engine and it does seem to have some improvement in performance from the one we used at the end of last season. I tried some new traction control strategies and they seem to be a bit better, but we really need to understand how the bike is going to perform in colder conditions, so the test in Qatar will be very important. Two days of testing at a time is not enough to try and get everything done and make the changes we need, but it is the same for everyone so we have to try and do our best. I have asked Suzuki if they can make some improvements for the chassis in time for Qatar and they say that they will be able to, so that is positive and it will help us understand how much we have improved since last year."
Popularity: 1% [?]