The official Valentino Rossi merchandise range has expanded to include a set of children's bicycles that have been designed and painted with a blue and yellow Valentino Rossi paint-job and stickers.
This limited edition range of children's bicycles have been designed by Valentino Rossi himself in collaboration with the famous Italian bicycle manufacturer 'Cicli Adriatica'. 'Cicli Adriatica' are one of Italy's oldest and most respected manufacturer of bicycles.
This Rossi children's bicycle range was officially launched at the end of 2009 at the Milan motorcycle show, and are now available to purchase online. At the launch, a 'Cicli Adriatica' spokesperson stated: "Valentino still remembers when, as a kid, he took his first steps in the backyard of Dad Graziano, just riding an Adriatica bike,".
There are various models and sizes to choose from in the range, see below:
Kids Valentino Rossi VR46 children's bicycles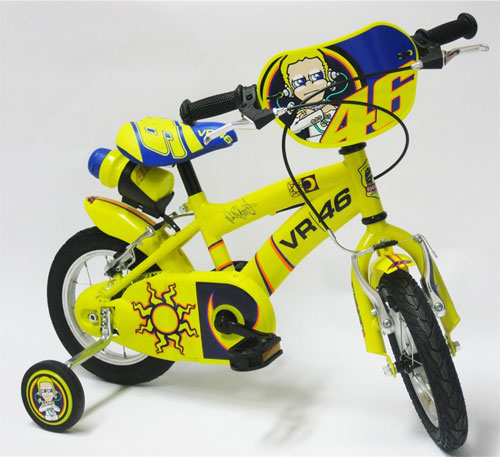 Product Description:
Valentino Rossi VR46 Kids Bicycle in the colours yellow/blue and with sun and moon logo's and VR46 stickers. This bike is designed by Valentino Rossi himself in collaboration with bicycle manufacturer Cicli Adriatica. There are a range of models for kids aged 2 to 4, aged 4 to 6, and aged 7 to 9, perfect for young Valentino Rossi fans of all ages. The bike comes complete with stabilisers, chain guard and mud guards.
Where to buy the Kids Valentino Rossi VR46 bicycles:
Best prices can currently be found online:
Ages 2.5 to 4:
Ages 4 – 6:
This bike is also available in a 16 inch wheel size model that is suitable for children between the ages of 4 to 6.
Buy Kids Valentino Rossi VR46 bicycle in YELLOW – 16″ wheel from Fangadgets.com
Buy Kids Valentino Rossi VR46 bicycle in BLUE – 16″ wheel from Fangadgets.com
Ages 7 – 9:
This bicycle is also available in a 20 inch wheel size suitable fro children between the ages of 7 to 9:
Buy Kids Valentino Rossi VR46 bicycle in YELLOW – 20″ wheel from Fangadgets.com
Buy Kids Valentino Rossi VR46 bicycle in BLUE – 20″ wheel from Fangadgets.com
————————————————————
Popularity: 23% [?]