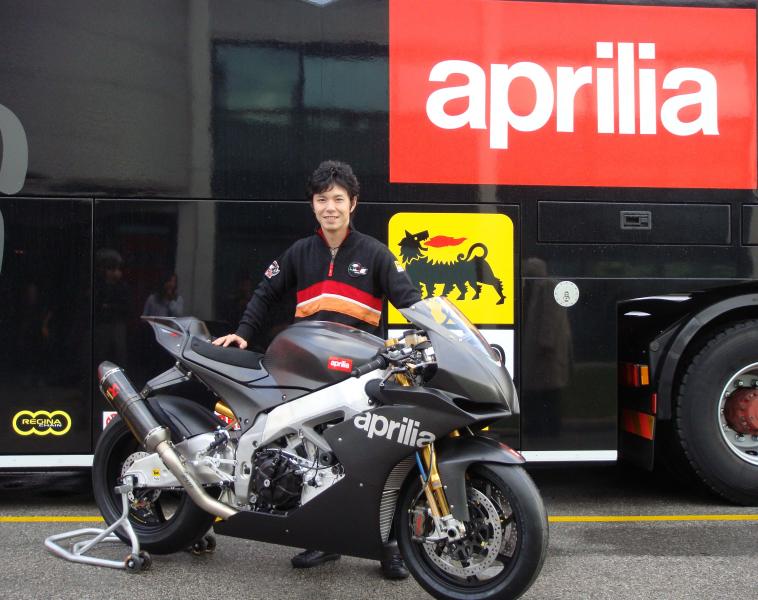 Shinya Nakano has reveled his plans for 2009 after losing his ride at Honda Gresini and watching his opportunity to ride for a third Kawasaki in MotoGP go up in a puff of green smoke. He will now join Max Biaggi riding an Aprilia RSV4 in World Superbikes.
Shinya Nakano:
"I am happy indeed, for me it is a joy to belong to the Aprilia family. Here I have found a big tradition and extraordinary competence in the races that Aprilia faces with high professionalism, and the 33 world titles won up to today are confirmation of this. Superbike is a new challenge, I want to risk all of my experience to help the new Aprilia RSV4 project. It will be a honor to be able to race beside Max Biaggi, he is a hero of mine and he was an inspiration to me in the first phases of my career, I am sure that together we will succeed in developing the best motorbike and to already get good results in the season 2009″.
Giampiero Sacchi, Sporting Director of the Piaggio Group
"With the signing of Nakano we complete the team for the World Superbike 2009. Aprilia faces difficult competition having as adversaries the greatest world constructors, it is a hard but fascinating challenge that needs interpreters of before greatness: Biaggi and Nakano are a couple of pilots at the same time fast, competitive and of great experience. This is the top for an innovative, technological project, being ambitious in sport like Aprilia RSV4″.
Popularity: 1% [?]