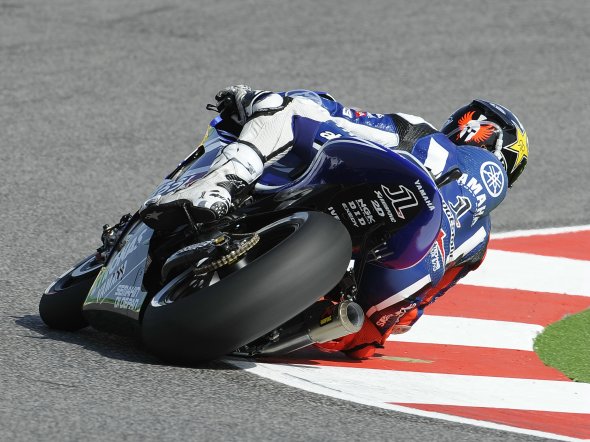 Jorge Lorenzo got his championship back on track with a commanding win at Misano – Lorenzo won by a comfortable 7 second margin. Lorenzo's day was made even better with Dani Pedrosa taking second place from Casey Stoner, meaning that Lorenzo was able to take a 9 point bit out of Casey Stoner's champioship lead. The gap between Stoner and Lorenzo at the top of the championship standings is now down to 35 points.
Lorenzo took the lead from the start, but Stoner was soon tucked behind in second place and looked like he had the speed to challenge Lorenzo in the early laps.
Despite his strong start, Stoner started losing time in the second half of the race allowing Pedrosa to catch him. Pedrosa eventually overtook him for second place on lap 22. After the race Stoner stated that he was suffering from fatigue and lacked the strength to enable him to push for victory.
The factory Ducati team had a mixed race with Valentino Rossi managing a respectable finish that saw him start from 11th and end in 7th, but Nicky Hayden once again suffered a crash at Misano and was forced to retire.
Loris Capirossi, who announced his intention to retire at the end of this season, had an unhappy final race in Italy and was forced to pit early in the race to have the chain changed on his bike. Capirossi went back out, but retired only a few laps later.
MotoGP race results from Misano:
1Jorge LORENZOYamaha Factory Racing44'11.877
2Dani PEDROSARepsol Honda Team7.299
3Casey STONERRepsol Honda Team11.967
4Marco SIMONCELLISan Carlo Honda Gresini17.353
5Andrea DOVIZIOSORepsol Honda Team17.39
6Ben SPIESYamaha Factory Racing18.092
7Valentino ROSSIDucati Team23.703
8Alvaro BAUTISTARizla Suzuki MotoGP30.678
9Hector BARBERAMapfre Aspar Team MotoGP37.502
10Cal CRUTCHLOWMonster Yamaha Tech 337.72
11Hiroshi AOYAMASan Carlo Honda Gresini39.548
12Karel ABRAHAMCardion AB Motoracing40.506
13Colin EDWARDSMonster Yamaha Tech 353.349
14Randy DE PUNIETPramac Racing Team+1'02.366
15Toni ELIASLCR Honda MotoGP+1'20.156
Not Classified
Loris CAPIROSSIPramac Racing Team20 Laps
Nicky HAYDENDucati Team26 Laps
Popularity: 1% [?]