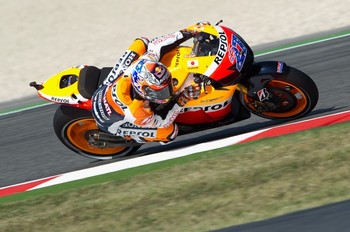 Casey Stoner took another pole position at Misano. Jorge Lorenzo and Dani Pedrosa managed to close the gap late on in the session, but Stoner's time remained untouched.
'Home hero' Valentino Rossi had another poor session, and only managed to qualify in 11th position, with Hector Barbera taking the 'fastest Ducati' crown with a 9th place position.
Cal Crutchlow also had another forgettable qualifying session and suffered a low-side crash towards the end which left him unable to improve on 13th place.
MotoGP Qualifying Times from Misano:
1Casey STONERRepsol Honda Team2741'33.138
2Jorge LORENZOYamaha Factory Racing271.71'33.258
3Dani PEDROSARepsol Honda Team276.61'33.318
4Ben SPIESYamaha Factory Racing269.61'33.947
5Marco SIMONCELLISan Carlo Honda Gresini267.91'33.990
6Andrea DOVIZIOSORepsol Honda Team273.81'34.026
7Colin EDWARDSMonster Yamaha Tech 3266.41'34.054
8Alvaro BAUTISTARizla Suzuki MotoGP274.61'34.360
9Hector BARBERAMapfre Aspar Team MotoGP274.71'34.592
10Hiroshi AOYAMASan Carlo Honda Gresini274.81'34.637
11Valentino ROSSIDucati Team271.21'34.676
12Karel ABRAHAMCardion AB Motoracing273.31'34.727
13Cal CRUTCHLOWMonster Yamaha Tech 3267.71'34.791
14Randy DE PUNIETPramac Racing Team268.91'34.870
15Nicky HAYDENDucati Team271.81'34.955
16Loris CAPIROSSIPramac Racing Team270.71'35.502
17Toni ELIASLCR Honda MotoGP272.61'36.167
Popularity: 1% [?]