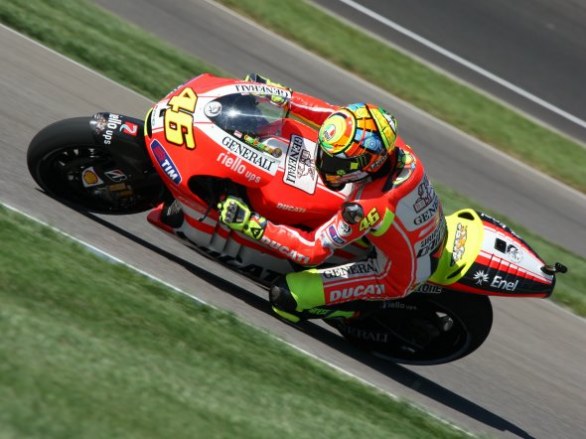 Ducati had a terrible weekend at the Indianapolis MotoGP – Capirossi and Abraham both retired complaining that there was no front-end feeling in the bike, Hector Barbera crashed on the final lap, and both factory riders Valentino Rossi and Nicky Hayden slipped steadily backwards during the race. Only Randy De Puniet managed a respectable result with 8th place.
Valentino Rossi had the strangest race of all, and part-way through he looked as if he was stopping to retire, but then rejoined the action at the back of the grid before fighting for a 10th place finish.
Valentino Rossi and Nicky Hayden explains their issues below.
Valentino Rossi – 10th
"A number of things happened this weekend that contributed to making this a particularly difficult race: the crash yesterday in qualifying, which robbed some confidence and was part of the reason we had to start so far back on the grid, and today there was a problem with the gearbox. The bike stuck in neutral six or seven times, and the first two caused me to go straight and lose time. I found myself in last place, but I decided to do what I could to at least get some points. In this morning's warm-up, we had made a small change that let us improve the pace a little, but the race was really difficult. We know that we have to work hard. Ducati is doing that, and my team and I are as well, because we must try to not let up and to get the bike ready while we wait for technical updates."
Nicky Hayden – 14th (+2 laps)
"It was a really tough day. We thought the soft front tyre could be a good option for the race, but unfortunately it only worked for seven or eight laps. Then I began to steadily lose ground until it even began shaking on the straightaways, and I had to come in. Since you've got to finish to get points, I went back out, and it was actually worth getting two points. I got a good start and was up front the first few laps, and that was the first time I put up a real fight in the dry all season. My bike felt fast in a straight line, and with this new gearbox, I could get out of that last corner and keep guys in the draft early on. We're on our first race with this bike, and maybe we don't know enough about what it needs. Sorry to all my U.S. fans and the Ducati fans here who came to support us, but we'll try again next week."
Popularity: 1% [?]