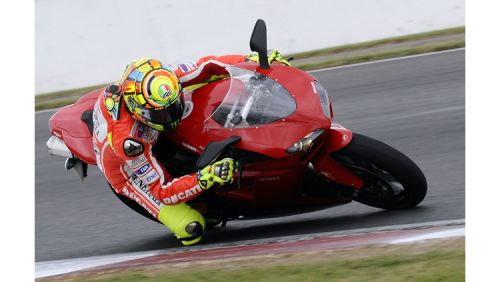 Valentino Rossi, Nicky Hayden and the rest of the factory Ducati team arrive at Silverstone in preperaion forthe British MotoGP.
Rossi missed out on the round last year due to his broken leg, however he did manage to sneak in a few laps on a Ducati 1198 a few weeks ago.
Video of Rossi's recent laps on the Ducati 1198 at Silverstone:

Nicky Hayden arrives in the UK fresh from his quick stop over at the Isle of Man to take part in a parade lap at the TT.
VALENTINO ROSSI, Ducati Marlboro Team
"Silverstone is a great track that's difficult and quite fast. I'll start on Friday with a small handicap because unfortunately, I didn't get to race there last year. I haven't ridden a MotoGP bike there, although I did about twenty laps on an 1198 street bike. I'll have to learn the track as quickly and as well as possible, as it's very technical, with several blind spots where taking the right line is very important. Of course we'll also have to work on adjusting the bike. Anyway, we're understanding better and better how to approach the setup of the GP11, and Ducati continues working on development. There's still work to be done, but it's clear which areas we have to address and we're all focused and determined to improve."
NICKY HAYDEN, Ducati Marlboro Team
"It's been a short week, because Barcelona was just a few days ago. After the race, I went to the Isle of Man TT, which was a great experience. Now it's time for Silverstone. We went there for the first time last year, so it's still kind of new and fresh for us. The track layout is the same, but they've changed where we enter the pits, which could make it a little different in some ways. It's a track I enjoyed a lot last year because it's big, long and fast. The pavement was a little bumpy in a couple of places, but it was perfect in other parts. I'm looking forward to it."
VITTORIANO GUARESCHI, Team Manager
"There are a number of aspects of the next Grand Prix that we'll have to handle as well as we can. Silverstone is a challenging track because it's technical and very fast, and finding the right lines is important. Nicky knows this well because he had a great race in 2010, finishing two tenths off the podium. Vale has only done some laps on a Ducati street bike, so he'll have to be quick at learning the track's secrets. The asphalt is new in some areas and bumpy in others, and that's a variable to keep in mind when searching for the right setup. Also, it's often quite cold in the mornings, which could limit the amount of useful track time even more than usual. In any case, the team is working very well, and everyone here is hugely committed, so we hope to keep making progress."
Popularity: 1% [?]