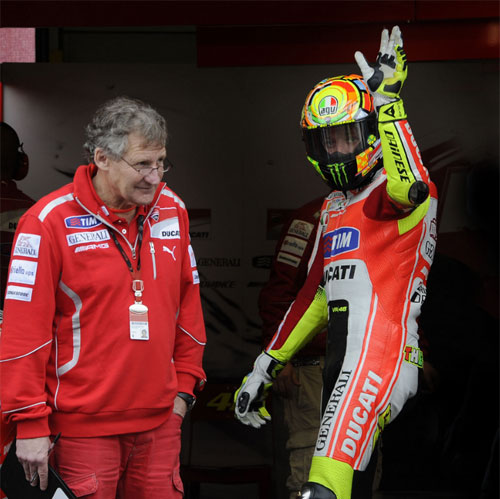 Valentino Rossi has had to wave goodbye to Jeremy Burgess for this weekend's Italian MotoGP at Mugello.
Burgess has had to return to Australia to be with his wife who has been taken ill.
VALENTINO ROSSI, Ducati Marlboro Team
"First of all I'd like to wish good luck to Jeremy, who won't be able to join us this weekend due to very important personal reasons. We'll miss him very much in the garage, but we look forward to seeing him at the Sachsenring. In the meantime, we must try to do well at Mugello. We've ridden there with the GP12, but because our bike is an 800, it responds a little differently to adjustments, and it's also in its first phase of development. It will be vital to quickly find the right path for the setup, as it's important that we improve in every session in order to qualify in a good position. The track is one of my favorites, and I've always done pretty well there. Returning after last year's accident is no problem for me, because I enjoyed riding there during the recent tests, as I always do. I hope there will be a big crowd and that I'll be able to do better than we've managed until now, because this is a very important race."
NICKY HAYDEN, Ducati Marlboro Team
"Even though we're probably not at our finest moment, Mugello is going to be special for the team. I know the fans are going to come there and support us, especially now with an Italian rider. I love the track, although it's not one where I've had great results, so I'm not planning on an easy weekend. I know I'm going to have to come out there on Friday and get going. We're going to have plenty of expectations, and it should be a busy weekend with all the hype going on. I'm really looking forward to it.
VITTORIANO GUARESCHI, Team Manager
"We're very sorry not to have Jeremy with us at Mugello for our home race, where we'll have many fans in the grandstands. We're with him in spirit, and we're awaiting his prompt return. In the meantime, we've revised the working structure in the box with the addition of Fabiano Sterlacchini, a very experienced Ducati engineer who normally looks after Loris, who is unfortunately injured. We thank Paolo Campinoti and the Pramac Team for making Fabiano available to us so that we can fully support Valentino for a very important race. As for Nicky, we'll continue working on the step 2 frame, which we didn't use in the race at Assen, where the inconsistent weather conditions prevented us from carrying out the necessary comparative tests."
Popularity: 1% [?]