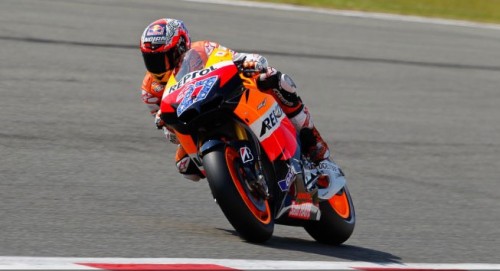 MotoGP qualifying for the British MotoGP was a battle of the few – with Marco Simoncelli, Casey Stoner, and Jorge Lorenzo outperforming the rest of the grid to battle for pole position.
Simoncelli had broken the 2010 pole position time within 20 minutes of the session starting, and Stoner quickly followed soon after to push it down even further.
All three riders led the session at various points, and after swapping places towards the end of the session a few times, it was Casey Stoner who clinched the top spot.
All was not well lower down the timesheets though…….
Valentino Rossi had a terrible outing on the Ducati and after staying in 14th place for most of the session, only just managed to improve his position by one place to finish in 13th.
Disaster stuck for the Tech 3 Yamaha team one again, as Cal Crutchlow fell from his Yamaha after only a couple of laps and suffered a fractured collarbone and concussion that will rule him out of tomorrow's race. With Pedrosa still ruled out, the British fans will be facing a severely depleted grid for tomorrow's race.
Credit to Colin Edwards though who managed to secure 8th position after breaking his collarbone only at week ago.
MotoGP Qualifying Times from Silverstone:
1Casey STONERRepsol Honda Team2'02.020
2Marco SIMONCELLISan Carlo Honda Gresini2'02.208
3Jorge LORENZOYamaha Factory Racing2'02.237
4Ben SPIESYamaha Factory Racing2'02.677
5Andrea DOVIZIOSORepsol Honda Team2'03.212
6Karel ABRAHAMCardion AB Motoracing2'04.151
7Nicky HAYDENDucati Team2'04.304
8Colin EDWARDSMonster Yamaha Tech 32'04.508
9Alvaro BAUTISTARizla Suzuki MotoGP2'04.520
10Randy DE PUNIETPramac Racing Team2'04.589
11Hiroshi AOYAMASan Carlo Honda Gresini2'04.919
12Hector BARBERAMapfre Aspar Team MotoGP2'05.164
13Valentino ROSSIDucati Team2'05.781
14Toni ELIASLCR Honda MotoGP2'05.862
15Loris CAPIROSSIPramac Racing Team2'06.256
16Cal CRUTCHLOWMonster Yamaha Tech 32'07.911
Popularity: 1% [?]