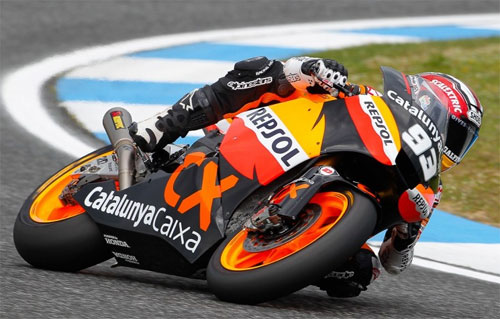 Marc Marquez dominated the Moto2 Qualifying session to take pole position – his first in Moto2.
With Cal Crutchlow ruled out of tomorrow's MotoGP with a fractured collarbone, it was left to Scott Redding in Moto2 to give the home fans something to cheer about as he took second place in qualifying.
Bradl and Cluzel took 3rd and 4th respectively and will round out the front row for tomorrow's race.
Moto2 Qualifying results from Silverstone:
1Marc MARQUEZTeam CatalunyaCaixa Repsol2'08.101
2Scott REDDINGMarc VDS Racing Team2'08.598
3Stefan BRADLViessmann Kiefer Racing2'08.618
4Jules CLUZELNGM Forward Racing2'08.923
5Simone CORSIIoda Racing Project2'08.976
6Michele PIRROGresini Racing Moto22'09.021
7Aleix ESPARGAROPons HP 402'09.216
8Randy KRUMMENACHERGP Team Switzerland Kiefer Racing2'09.415
9Mike DI MEGLIOTech 3 Racing2'09.527
10Alex DE ANGELISJIR Moto22'09.646
11Claudio CORTIItaltrans Racing Team2'09.656
12Yuki TAKAHASHIGresini Racing Moto22'09.679
13Kenan SOFUOGLUTechnomag-CIP2'09.711
14Thomas LUTHIInterwetten Paddock Moto22'09.725
15Raffaele DE ROSASAG Team2'09.803
16Axel PONSPons HP 402'09.994
17Max NEUKIRCHNERMZ Racing Team2'10.069
18Xavier SIMEONTech 3 B2'10.077
19Jordi TORRESMapfre Aspar Team Moto22'10.122
20Esteve RABATBlusens-STX2'10.220
21Yonny HERNANDEZBlusens-STX2'10.262
22Mattia PASINIIoda Racing Project2'10.312
23Pol ESPARGAROHP Tuenti Speed Up2'10.514
24Kev COGHLANAeroport de Castello2'10.551
25Carmelo MORALESDesguaces La Torre G222'10.565
26Mika KALLIOMarc VDS Racing Team2'10.744
27Kenny NOYESAvintia-STX2'10.765
28Bradley SMITHTech 3 Racing2'10.804
29Valentin DEBISESpeed Up2'10.920
30Javier FORESMapfre Aspar Team Moto22'10.968
31Dominique AEGERTERTechnomag-CIP2'11.057
32Ratthapark WILAIROTThai Honda Singha SAG2'11.085
33Andrea IANNONESpeed Master2'11.335
34Alex BALDOLININGM Forward Racing2'11.399
35Robertino PIETRIItaltrans Racing Team2'11.562
36Anthony WESTMZ Racing Team2'13.483
37Mashel AL NAIMIQMMF Racing Team2'13.935
38Nasser Hasan AL MALKIQMMF Racing Team2'15.869
Popularity: 1% [?]