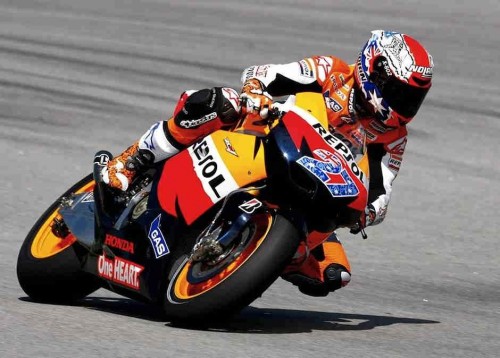 Casey Stoner dominated an relatively dull Spanish MotoGP, claiming an unchallenged victory over Jorge Lorenzo.
Ben Spies showed a return to form to take an unchallenged third position, and Dovizioso took fourth. Valentino Rossi had another solid outing on the Ducati to finish in fifth position
Marco Simoncelli was the surprise of the day; despite starting in pole position he only managed a sixth place finish. Simoncelli got off to a good start, but got swallowed up going into the first turn and seemed willing to concede a lot of places – eventually he got his rhythm back and made a strong pass on Nicky Hayden, but little else after that.
MotoGP Race Results from Catalunya:
127Casey STONERAUSRepsol Honda Team43'19.779
21Jorge LORENZOSPAYamaha Factory Racing2.403
311Ben SPIESUSAYamaha Factory Racing4.291
44Andrea DOVIZIOSOITARepsol Honda Team5.255
546Valentino ROSSIITADucati Team7.371
658Marco SIMONCELLIITASan Carlo Honda Gresini11.831
735Cal CRUTCHLOWGBRMonster Yamaha Tech 326.483
869Nicky HAYDENUSADucati Team33.243
965Loris CAPIROSSIITAPramac Racing Team43.092
1017Karel ABRAHAMCZECardion AB Motoracing43.113
118Hector BARBERASPAMapfre Aspar Team MotoGP44.224
1219Alvaro BAUTISTASPARizla Suzuki MotoGP45.239
1324Toni ELIASSPALCR Honda MotoGP58.268
Not Classified
14Randy DE PUNIETFRAPramac Racing Team22 Laps
7Hiroshi AOYAMAJPNSan Carlo Honda Gresini22 Laps
Popularity: 1% [?]