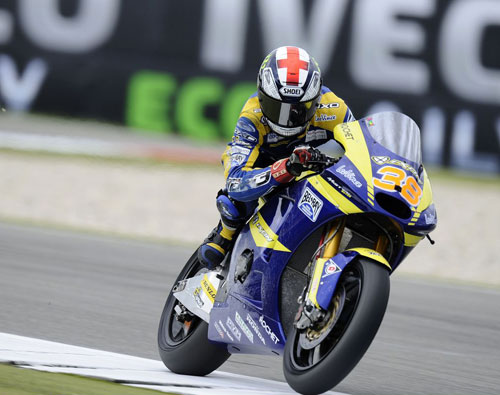 Bradley Smith is looking more and more comfortable on Moto2 machinery and his first Moto2 win can't be too far away.
After starting on the 4th row for the Dutch Moto2 race, Smith made a flying start in tricky conditions as the unpredictable Assen weather dominated the 24-lap race. The race was declared wet after an earlier downpour brought a premature end to the 125cc race and Smith excelled in the early laps.
After claiming his first Moto2 podium in wet conditions at Silverstone earlier this month, his wet weather riding skills were immediately on display and he needed just three laps to go from 10th on the grid to lead the field. Smith looked confident and assured at the front and held off intense pressure from Marc Marquez, Kenan Sofuoglu and Yuki Takahashi until lap 10, by which time the rain had started to fall again.
Smith was able to maintain his impressive pace though and briefly regained the lead on lap 18 before Marquez and Sofuoglu passed him again when Takahashi crashed out of contention on lap 19.
With Takahashi out and conditions becoming increasingly unpredictable, Smith opted to settle for the podium rather than taking any unnecessary risks and the 16-points gained moved Smith into fourth position in the World Championship rankings, just four-points behind Simone Corsi.
Mike di Meglio was also challenging for the podium in the early stages before a small mistake ruled him out of contention. A brilliant start from the Frenchman moved him up five places on the opening lap and quickly at ease with the treacherous conditions, di Meglio had brilliantly moved into the top five. But he fell on lap three and while unhurt in the crash he was unable to continue because of a damaged right handlebar.
Bradley Smith 3rd – 63 points:
"It was really hard work today because the conditions were so varied you had no idea what to expect from one lap to the next. At the start of the race I felt really comfortable, especially on a wet track. But once it started to dry I started to suffer a little bit. When I was at the front and the track was pretty damp, that's when I felt at my best. We went very cautious with the set-up making sure we could get full grip if the rain came down. The racing line got bigger and bigger and I think we ran a set-up that was a little bit too soft for those conditions. When it started to rain again and I knew I had a chance of the podium I just did the sensible thing and took the 16-points. It kept drying out and I found it more difficult, but to get that result was absolutely awesome. I love Mugello so hopefully I'll be very competitive there next weekend too."
Mike di Meglio DNF – 7 points:
"I am happy and sad as the race was going so fantastically well and then unfortunately I crashed. I got a really good start and was quickly inside the top six and I had a good feeling with the bike, even though the conditions were really difficult. I got into the top four and I was really confident I could stay there and maybe even push for the podium. But I made a small mistake and unfortunately the right handlebar was broken in the gravel, so it was impossible to rejoin the race. That's disappointing because I could have scored my best result of the season. There are still a lot of positives to take from the weekend because I was competitive on each day, so I am confident I can be close to the front again in Mugello next weekend."
Herve Poncharal – Team Manager:
"I am very happy with Bradley once again because he is showing race after race that he is definitely a top five rider on any track in any condition in Moto2. The race was very long for my old heart. In those conditions it is so easy to make a mistake and I was worried a bit. But just like in Silverstone, Bradley had everything under control and he did an amazing job. His ride was a masterpiece and he was very mature. He did not try too hard in the end because third is a great result and we are now fourth in the championship, only a few points away second. To be at that level at this stage of the season shows what a brilliant job he is doing. I was very pleased to see all three Tech3 riders in the top 10 this morning in the Warm-up and we also had a couple of moments in the top six in the race and that shows that the Mistral 610 package is a strong one. It is a shame that Mike crashed because he was also looking very fast. Unfortunately he was unable to finish, so we hope he learns from this and comes back stronger next weekend in Mugello."
Popularity: 1% [?]