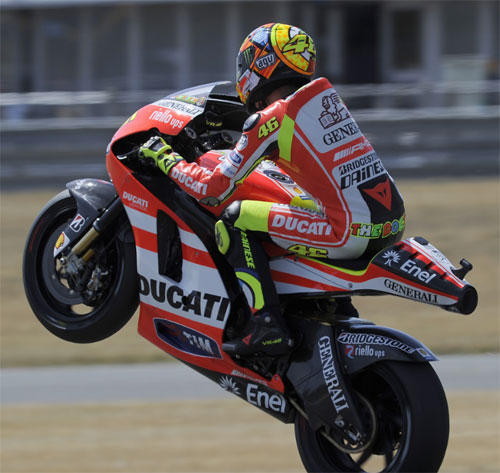 Valentino Rossi scored his first podium as a Ducati rider at the French MotoGP today – admittedly he got more than a little help from the fact that Pedrosa crashed out, Simoncelli was penalised with a ride-through penalty, and Jorge Lorenzo had a moment that saw him drop off from the leading riders.
But, despite these other contributing factors, Rossi's performance at Le Mans was arguably his best yet on the Ducati.
Nicky Hayden had to work hard for his 7th position finish after starting from 10th, and despite losing out in a duel with Ben Spies at the end of the race, he took plenty of positives from his performance.
Both Ducati riders talk about the French MotoGP below:
Valentino Rossi (Ducati MotoGP Team) 3rd
"We're very pleased with this podium because we're on the right path, and especially because I had fun today. I rode the Desmosedici well, I was fast in the technical parts of the track, I felt good from start to finish and I had good lap times. This morning we made a last change to the setting together with Jeremy and the guys from Ducati, and it helped cut another couple of tenths. I knew I could beat Lorenzo, so that was my goal. I also passed Dovi at one point, but I got a little confused and made a move on the penultimate lap instead of the last one. I lost my concentration momentarily, but in short, he got me again. Anyway, it's fine like this; I'm happy for myself, for my team, for Filippo (Preziosi), and for all the boys at Ducati. This result boosts our morale. We still have to keep working and improving though, because there's more to be done. I also have to improve and keep adapting my style to the Ducati, because I'm still not riding it as I should, but in the meanwhile, we'll enjoy today's nice race and podium."
Nicky Hayden (Ducati MotoGP Team) 7th
"We didn't do ourselves any favors by starting 10th, but actually, we made a little step forward with the bike today. I got a decent start but was just really tight and lost some time. As the race got going, I was able to move up a bit and slowly bring back Spies and Colin. Colin crashed, but once I got in front of Ben, I wasn't really able to get down in the 34s and get away like I needed to. Seventh isn't a great result for us, but I would say that overall, it's probably been our best weekend yet. When the track was cold, I was able to go quite fast—always in the top five in those conditions. I hoped for better in the race, but I'm looking forward to the next stretch; we're about to really get into the season."
Vittoriano Guareschi (Team Manager)
"We're satisfied with this weekend because we've already benefited from the first changes that we've made according to Vale's requests. We had a nice race, maintained a good pace and took part in a nice battle. The team worked very well on the setup, which we changed every session and took a step forward each time—including one in the morning warm-up. We still have work to do, because this is only the start; there's still a gap to make up, but anyway, we're going in a promising direction. Nicky also confirmed that his feeling with the motorcycle has improved, and he made good progress on the bike over the course of the weekend."
Popularity: 3% [?]