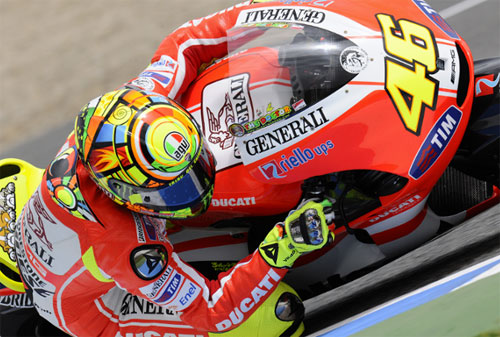 The forecast at the moment for this weekend's MotoGP action in Estoril is for wet weather.
Estoril 5 day Weather Forecast:


If this forecast doesn't change then it could be good news for Valentino Rossi.
Rossi managed to find a good setting on his Ducati for the wet race in Jerez, and the slippery conditions seemed to level the playing field to the extent that Rossi was able to cut through the pack pretty quickly……….until he crashed, and took Casey Stoner out with him, that is.
Casey Stoner will be hoping to avoid another heavy Valentino Rossi downfall.
This is what the factory Ducati team had to say abount this weekend's return to MotoGP action:
VALENTINO ROSSI, Ducati MotoGP Team
"With the postponement of the Japanese GP, we've had three weekends without a race, so I was able to 'unplug' for a while following the GP12 test at Jerez, although I continued training to help my physical recovery. Now we go to Estoril, a track I quite like, where we'll continue working on the GP11's setup, particularly during the test on Monday. The conditions are often unpredictable at Estoril because the area is very windy and close to the ocean, making for variable weather, especially in the spring. Anyway, although we saw at Jerez that we're already competitive in the wet, we're hoping for sun in Portugal so that we can make the most of our time on the track. We still have to understand the bike better, and to work on the setup with the goal of being faster in the dry in time for the most intense phase of the season, when we'll have six races in eight weeks starting in June."
NICKY HAYDEN, Ducati MotoGP Team
"On to Portugal! We've had three weeks off, which seems like a long time, so I'm looking forward to getting back with the team. Estoril has some pretty tight, narrow places, but I'd say my favorite part is the fast kink on the back straightaway. Actually, we were just there in the fall, but the weekend was completely wet until the race. Hopefully it's a little bit different this year, because it would be nice to get some dry time in as well. Now the season really gets rolling as we head into summer. I know the team's been working hard, and I'm also looking forward to the test that we have on Monday after the race. I can't wait to get back to the track and back on the bike. Hopefully we can go and get a good result."
VITTORIANO GUARESCHI, Team Manager
"We're back on the track after a long break, and with the post-race test, it will be a long weekend. For now, the weather forecast isn't good, but we'll see, because the conditions there change quickly. We hope for at least fair conditions throughout the weekend. We got a podium with Nicky at our last race, and we hope the result will help him find the feeling that he had last year when he had many nice races, including here at Estoril when he led for a while before a couple of small mistakes held him to fifth. Vale was fast and very competitive in Spain, especially considering that he hadn't ever ridden the GP11 in the wet. Now the goal is to enable our riders to ride at a similar level in the dry."
Popularity: 1% [?]