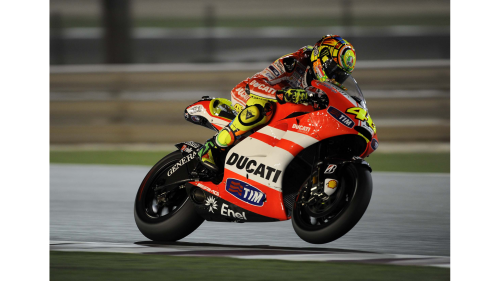 The Ducati factory team had to work hard for their points in the opening MotoGP race in Qatar – Nicky Hayden was forced to mount a comeback to take 9th position after starting from the 5th row, and Valentino Rossi found himself fighting against his old Yamaha (being ridden by Ben Spies).
Both Rossi and Hayden comment on the Qatar MotoGP below:
Valentino Rossi (Ducati Marlboro Team GP11):
"For sure we're not here to get seventh-place finishes, but there are also positive things from this race, starting with the times, because we were lapping pretty quickly. I had a great start, and that was a nice feeling because the horsepower that this bike has really helps it to launch.
"Then I made a small error in the first turn, which is a shame because I got stuck behind Barbera for a few laps. Otherwise I would have been closer to Simoncelli and Dovizioso, since anyway there was a period when I lapped with them.
"I wouldn't have beaten them though, because at the end of the race, I'm no longer able to ride like I have to. I'm not referring to the Ducati because even last year, after I hurt my shoulder, I had the same problems in the latter parts of the races, and since the two bikes are so different, it means that it's really a matter of me not being physically right. It's not just that. We also have to improve the bike because the others have clearly made a step forward since last year.
"Still, I learned a lot in this test and in this race, and we've already given very specific instructions about what must be done in the long term, in order to improve for the second half of the season for example. In the near term, on the other hand, we'll work on the setup, we'll keep gathering experience, and I'll continue exercising and doing everything I can to recuperate physically."
Nicky Hayden (Ducati Marlboro Team GP11):
"I got a bad start in the race, and then when De Puniet crashed, I just about ran over him and had to come to a complete stop. I'm happy I didn't run into him, but that was a bad break, because I was dead last with a gap to the next person.
"I started picking my way through, and once I got into ninth, I got into a decent rhythm and started doing my pace. I was trying to catch Edwards because I thought it would've been nice to have a last-lap race with him, but I didn't quite get to him. It's been a tough weekend for me on and off the track, but everybody around here is working to the maximum.
"They're the first ones in and the last ones out. I can't be happy with the ride, but I came from dead last, and my fastest lap was my last one. We've got a lot of work to do, but it's just one race, and no one can say we weren't trying."
Popularity: 1% [?]