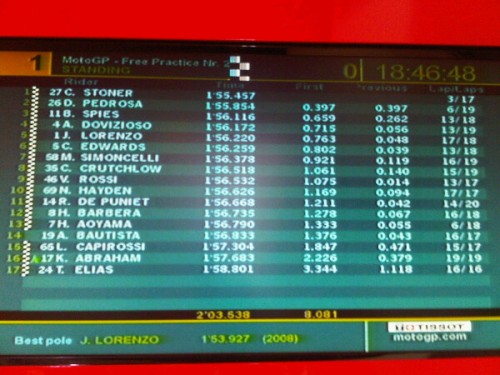 Casey Stoner remains top of the timesheets for the second Free Practice session in Qatar.
Pedrosa was 0.4 seconds behind in second, and Spies took third. In total six riders were within 1 second of Stoner's best time.
Cal Crutchlow deserves special mention for a heroic ride, with his badly injured finger to take 8th position, ahead of Valentino Rossi in 9th.
Qatar: MotoGP Free Practice 2 results:
1Casey STONERRepsol Honda Team1'55.457
2Dani PEDROSARepsol Honda Team1'55.854
3Ben SPIESYamaha Factory Racing1'56.116
4Andrea DOVIZIOSORepsol Honda Team1'56.172
5Jorge LORENZOYamaha Factory Racing1'56.220
6Colin EDWARDSMonster Yamaha Tech 31'56.259
7Marco SIMONCELLISan Carlo Honda Gresini1'56.378
8Cal CRUTCHLOWMonster Yamaha Tech 31'56.518
9Valentino ROSSIDucati Team1'56.532
10Nicky HAYDENDucati Team1'56.626
11Randy DE PUNIETPramac Racing Team1'56.668
12Hector BARBERAMapfre Aspar Team MotoGP1'56.735
13Hiroshi AOYAMASan Carlo Honda Gresini1'56.790
14Alvaro BAUTISTARizla Suzuki MotoGP1'56.833
15Loris CAPIROSSIPramac Racing Team1'57.304
16Karel ABRAHAMCardion AB Motoracing1'57.683
17Toni ELIASLCR Honda MotoGP1'58.801
Popularity: 1% [?]