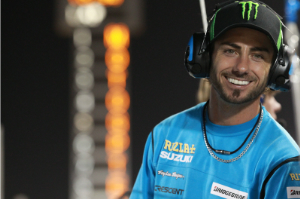 Round 1 of the 2011 MotoGP season was lit up by thousands of high-power lights in Qatar, and now round two promises to be illuminated with the equal brightness of John Hopkins's teeth as he makes his return to MotoGP replacing Alvaro Bautista in the Rizla Suzuki team.
Hopper last rode for Rizla Suzuki in 2007, before his move to the Kawasaki team. Hopkins will take to the track for the first time on Friday for two free practice sessions. This is followed by a further free practice session on Saturday morning and then the hour-long qualifying session in the afternoon.
It is still unclear as to when Bautista will be fit enough to return to racing, but the team are confident that he will make an apperance at Jerez as a spectator.
Here's what Hopper had to say:
John Hopkins:
"I was shocked by what happened to Álvaro, especially after such good winter testing, and I really wish him a speedy and full recovery – I wanted the opportunity to get back on a MotoGP bike, but not under these circumstances. I'm under no illusions that this will be tough weekend for me, as I've not been on a GP machine for a couple of years or ridden the new control tyres – except for the filming I did in Qatar a couple of weeks ago – so I realise this will be a step up from what I have been riding recently. The bikes have moved on in the last three years, but when I rode the GSV-R at Losail it seemed so familiar and I immediately had a good feeling, but that was at filming pace, so it's going to be a lot different at race pace! I know the Jerez track well, so it's not like I need to learn a new circuit and I also know the team well so that that will help a lot. I will certainly be trying as hard as I can to get a good result and make sure that I don't disappoint anybody – myself included. I want to say a big thank-you to Suzuki and Rizla for giving me this opportunity and I intend to pay back their faith with a good performance on my return to MotoGP."
Popularity: 3% [?]