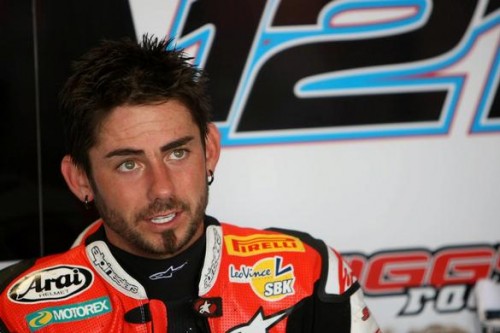 British race fans will get a chance to see former MotoGP rider John Hopkins a lot more in 2011, as it has now been confirmed that he has signed his contract to compete in the BSB series with Crescent Suzuki.
An American (okay, so we know he is part British) has yet to win a BSB race, so Hopper could become the first as he sets out to re-build his racing career, which has suffered in recent years with injury and poor decisions, amongst other factors.
John Hopkins:
"I am really looking forward to BSB and working with Crescent again, it will obviously be a different crew but I know they are a great group of guys and that will be a good foundation to start the season.
"It is going to be a huge challenge for me, I know there are new tracks to learn, but I am not too concerned, I have to say with a passion for motocross I am definitely looking forward to Cadwell Park! I have seen the racing and photos from there and I can't wait to have a go myself.
"I have seen BSB races before and I know that there is some tough competition there, so I am excited to get started – especially as I haven't raced most of the other riders before. It is pretty much a level playing field in terms of the riders and their experiences, but that always makes for the best racing.
"Everyone says how close BSB is and I know that it will be the same this season, but I know I am joining one of the top teams and we will have been testing ready for the start of the championship
"I have been unlucky with injury in past seasons – that comes with the territory but I can honestly say that I am fitter than I have ever been before, both mentally and physically. I know I had a reputation in the past, but it has all changed and my focus is on racing and I am really enjoying it.
"I wouldn't be coming to BSB if I didn't think I could be successful and I think it will be a better stepping stone for my future. The team had a great season last year and I am confident in them and the bike that we will be up there where we need to be.
"My style really suits the Suzuki and I am looking forward to riding the full-blown Superbike again, as in the U.S series the bikes are more restricted."
Popularity: 1% [?]