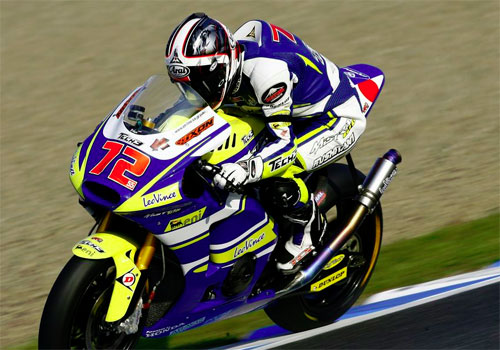 Yuki Takahashi finished less than three seconds away from scoring a brilliant home podium in today's exciting Moto2 race at the Twin Ring Motegi.
The Tech 3 Racing Team rider took full advantage of his first front row start since the Catalunya round in early July to surge into the lead at the first corner.
Hard charging Spanish duo Toni Elias and Julian Simon quickly swept by but the Japanese rider then produced a heroic performance in front of a large and appreciative home crowd of 40,113 to hold third position for the opening 14 laps.
Takahashi's tenacity though was unable to keep him in a rostrum position and despite a fantastic effort to claim a podium finish in memory of late Japanese rider and close friend Shoya Tomizawa, he had to settle for a hard fought sixth position.
Takahashi's result saw him climb one place to eighth in the overall Moto2 standings and with Gabor Talmacsi and Jules Cluzel failing to score points, he's hauled himself firmly back in the hunt for a top six world championship finish.
Raffaele de Rosa also produced a gutsy performance in this afternoon's 23-lap race, staged five months after the original Japanese Grand Prix was cancelled because of an Icelandic volcano eruption. The Italian expertly fought his way through from 17th on the grid into the top ten by the end of lap six and he elevated himself as high as ninth before he encountered a small front brake issue that unfortunately prevented him from moving higher up the field. The issue worsened as the race developed but de Rosa superbly adapted his riding style to claim his third points-scoring finish in the last five races with 15th position.
The Tech 3 Racing Team now moves quickly to the Sepang round in Malaysia next weekend before the hectic three-week run of flyaway races concludes at the spectacular Phillip Island circuit in Australia on October 17.
Yuki Takahashi 6th – 86 points
"I tried my absolute maximum today and there was nothing more I could do. I am not so happy to finish sixth because it is not the result I wanted, but I am really happy with the way I rode. I got a really good start and was in the lead at the first corner but Elias and Simon were able to pass me quite quickly. I just did my best to stay with them because I desperately wanted to finish on the podium in my home race. But I started to have some stability issues on the brakes and under acceleration and it wasn't so easy to keep third position. I kept pushing at 100 per cent but in the end I dropped back to sixth. I hope my performance made Shoya proud today and the Japanese crowd had something to cheer watching me."
Raffaele de Rosa 15th – 5 points
"The beginning of the race was very good although once again I'd made it very difficult for myself by starting down in 17th place on the grid. I attacked right from the start and I was able to pass many riders and I was happy with my pace. I'd got into ninth and thought I was going to be able to score my first top ten in Moto2 when I suddenly lost some power in the front brake. I was hoping it wouldn't be a big issue and I could keep fighting but every lap it got worse. Unfortunately I couldn't keep pushing at my maximum and I was struggling with acceleration too, which made it hard to defend my position on the brakes. I really think today's result could have been better but we'll try again for that top ten in Malaysia next weekend."
Herve Poncharal – Team Manager
"It has been a really positive weekend for the Tech 3 Racing Team. We were really delighted that Yuki was able to claim a front row in front of his home crowd and he rode a fantastic race. He got a great start and he led at the first corner and for quite a long time we were thinking that a home podium was a big possibility. He tried his absolute maximum for the whole race and I want to thank Yuki for his performance. He scored some good points and is close to sixth in the championship now. Congratulations to Raffaele also because his final result didn't reflect his potential. He was having probably his best race of the season and in a really strong fight with some of the best riders in Moto2 and hopefully we can see him finish the season with some strong results. Tech 3 Racing is now close to fifth in the constructor points too and if we can move one place up that would be a great achievement in the first season."
Popularity: 1% [?]