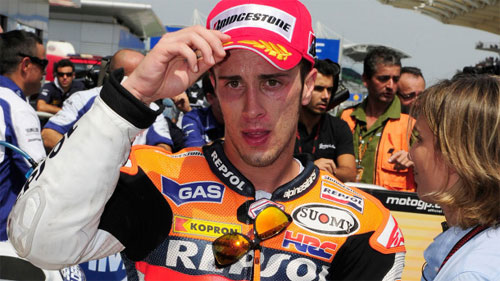 Andrea Dovizioso took his second consecutive runner-up result in the Malaysian MotoGP today, just two tenths of a second behind winner Valentino Rossi.
Andrea Dovizioso (Repsol Honda RC212V): 2nd
"I'm very happy with this second place today and it was a great race. We have been fighting for the victory at the last two races at two very different tracks, and also in different conditions, so this is really positive. I tried to stay close to Valentino on the last lap but in the final braking area I wasn't close enough to take him in the middle of the corner, even though he was too late on the brakes and went wide.
Anyway, this result for Honda, Repsol and my team is really important. Last year we were 40 seconds behind the winner in the race here, so to be just 0.2s behind means we've moved forward a lot.
Also, in the middle of the season, we weren't on the podium for a long time, so to be back in the top three is very important for us. We have to be happy because this was almost a win, and the riders in front of me are changing at each race, which means we have better consistency. We are happy and I'd like to say thank you to Honda and my crew. From the middle of the season until now we improved a lot because of the hard work of a great team."
Popularity: 1% [?]