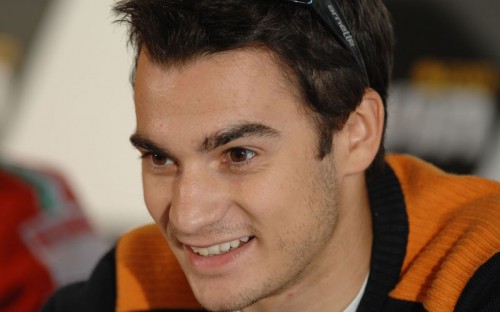 It has been confirmed that Dani Pedrosa has signed a new contract that will see him stay with the factory Honda team for a further 2 years. Pedrosa will pair up with Casey Stoner from next season – no news on what will happpen with Dovi yet though…..
Honda Press release:
Honda Racing Corporation (HRC) is pleased to announce that Dani Pedrosa will once again be a factory Honda rider in MotoGP for 2011 and 2012. The two-year deal extends Pedrosa's career-long relationship with Honda which has brought three world championships, 35 Grand Prix victories in all classes and 12 MotoGP wins – including victories at the last two races. Recent results show that Pedrosa and the Honda RC212V have evolved into one of the strongest combinations in MotoGP, and it is a partnership that both parties are determined will grow even stronger for the next two seasons.
Tetsuo Suzuki, HRC President:
"We are very pleased that Dani Pedrosa has re-signed to be a factory Honda rider, thus extending his longstanding and successful partnership with HRC. Dani is clearly at the peak of his powers and has gelled with the RC212V to create a formidable combination. We believe his relationship with the machine and the team will continue to grow and that he will mount an extremely strong challenge for the MotoGP World title over the next two seasons."
Dani Pedrosa:
"I'm really happy to be signing with Honda again. This has been the team of my dreams since I was a kid and that's still the same feeling I have now. We've had a long and successful relationship already and we believe together we can have even more success in the future. Over many years we have built up a very strong relationship and have enjoyed the successes and faced the difficulties together. We are at a good moment now and we must try to continue in this way. Our goal of course is to fight for victories every weekend and win the MotoGP world championship. I believe we have what it takes to do both of those things."
Popularity: 2% [?]