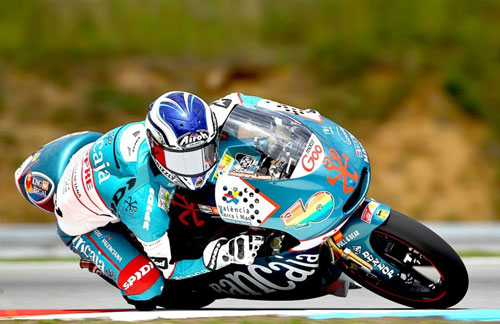 The 125cc race in Brno started with confusion on the grid as weather conditions went from wet, to dry, and then back to wet again. As soon as race directors called a dry race, then rain started again and the race was delayed in order for riders to change tyres.
It was Nico Terol who showed the best tactics – after an uncertain start he soon found his rhythm and went for race pace aggressively. By lap 2 he had stolen the lead from Efren Vazquez and soon started pulling out a consistent lead and towards the end of the race he had pulled out a 22 second lead for a lonely, but effective, peformance.
Vasquez battled Pol Espargaro and Esteve Rabat for 2nd place, until a bump with Rabat led to an angry exchange between the pair – Vasquez lost his cool and crashed out on the penultimate lap trying to overtake Rabat.
125cc Race results:
140Nicolas TEROLSPABancaja Aspar TeamAprilia140.643'49.303
244Pol ESPARGAROSPATuenti RacingDerbi139.5+20.351
312Esteve RABATSPABlusens-STXAprilia139.5+20.555
494Jonas FOLGERGEROngetta TeamAprilia139.0+29.529
584Jakub KORNFEILCZERacing Team GermanyAprilia139.0+29.914
638Bradley SMITHGBRBancaja Aspar TeamAprilia139.0+29.986
793Marc MARQUEZSPARed Bull Ajo MotorsportDerbi138.9+31.405
853Jasper IWEMANEDCBC CorseAprilia138.8+32.973
971Tomoyoshi KOYAMAJPNRacing Team GermanyAprilia138.4+41.842
1039Luis SALOMSPAStipa-Molenaar Racing GPAprilia138.1+46.128
1126Adrian MARTINSPAAeroport de Castello – AjoAprilia138.1+46.759
1223Alberto MONCAYOSPAAndalucia CajasolAprilia138.1+47.630
1378Marcel SCHROTTERGERInterwetten Honda 125Honda137.9+50.657
1469Louis ROSSIFRACBC CorseAprilia137.9+50.728
1563Zulfahmi KHAIRUDDINMALAirAsia – Sepang Int. CircuitAprilia137.7+55.490
1611Sandro CORTESEGERAvant Mitsubishi AjoDerbi137.4+1'00.902
1735Randy KRUMMENACHERSWIStipa-Molenaar Racing GPAprilia137.3+1'02.374
1895Alessandro TONUCCIITAJunior GP Racing Team FMIAprilia135.9+1'30.736
1914Johann ZARCOFRAWTR San Marino TeamAprilia134.9+1'50.616
2050Sturla FAGERHAUGNORAirAsia – Sepang Int. CircuitAprilia134.7+1'53.811
2172Marco RAVAIOLIITALambretta Reparto CorseLambretta134.7+1'54.419
2255Isaac VIÑALESSPALambretta Reparto CorseLambretta134.7+1'54.710
2387Luca MARCONIITAOngetta TeamAprilia134.3+2'03.252
Not Classified
7Efren VAZQUEZSPATuenti RacingDerbi139.42 Laps
15Simone GROTZKYJITAFontana RacingAprilia135.16 Laps
48Ladislav CHMELIKCZEMoto FGRHonda131.38 Laps
32Lorenzo SAVADORIITAMatteoni CP RacingAprilia128.29 Laps
92Luigi MORCIANOITAJunior GP Racing Team FMIAprilia131.911 Laps
5Alexis MASBOUFRAOngetta TeamAprilia127.118 Laps
DNF
99Danny WEBBGBRAndalucia CajasolAprilia0 Lap
Popularity: 1% [?]