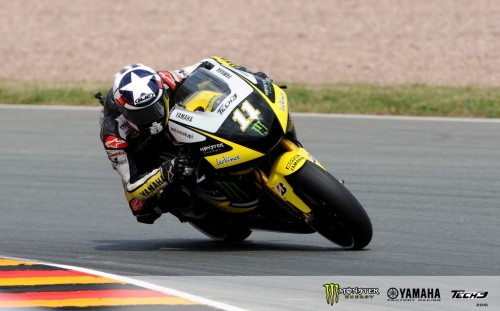 Ben Spies continued his fantastic charge towards the top five in the MotoGP world championship standings this afternoon after a richly deserved eighth place in a restarted German MotoGP race.
Facing a difficult challenge after starting in a lowly 13th position following an incident-packed qualifying session, Spies was in hot pursuit of a top eight finish when the scheduled 30-lap race was red flagged on lap ten after a three-rider incident.
The race was restarted over 21-laps and Spies lost contact with the group in front of him when Mika Kallio crashed at the first corner.
The 26-year-old sat in tenth position for the opening seven laps before he managed to expertly guide his Monster Yamaha Tech 3 machine by Marco Melandri on lap nine having already disposed of Hector Barbera.
At that stage Spies was over five seconds behind compatriot Nicky Hayden, but the reigning World Superbike champion was able to embark on a stunning charge in front of 98,477 fans.
His lap times were only bettered by the leading quartet at one stage and Spies was able to lap over a second faster than the group contending fifth spot in front of him. By the end he'd closed to within two seconds of Hayden and Spies was delighted with his pace, confident had he not started so far down the field that he would been able to seriously threaten for a place in the top five.
A difficult weekend for Colin Edwards ended in disappointing fashion.
Despite numerous changes to the set-up of his Monster Yamaha YZR-M1 machine throughout the weekend, Edwards was unable to discover a setting that allowed him to push at the fast pace he is capable of.
And his hopes of maintaining his proud record of scoring points in every race were ended when he crashed out of 16th position shortly before the race was red flagged.
Spies and Edwards now turn their attention to the all-important American MotoGP race at Laguna Seca. It is the eagerly anticipated home race for the Texan duo and both are determined to deliver strong results for an expectant and partisan crowd.
Ben Spies 8th – 67 points
"Eighth place does not reflect what happened on track today and it was quite clear that I could have been much higher. I had the misfortune in qualifying yesterday that was nobody's fault, but starting that far back hurt me today. It wasn't easy to pass Melandri because his bike accelerates really well but once I got by and could run my own race, I was really happy with how I performed. Dovizioso, Simoncelli and Nicky were five seconds clear at that point but I got to just over a second away from them. I was pretty much the fifth fastest guy on the track and I definitely had a fifth place result in me today, but I just had bad luck with the qualifying crash. But I leave with a top eight result and I'm not that far away from fourth in the championship now. Now I'm really looking forward to going home and racing at Laguna Seca. I love the circuit and I will have a lot of support and I genuinely believe I can run in the top five."
Colin Edwards DNF – 39-points
"I got pushed around a bit at the start and lost a bit of time and I was just pushing because what I would lose on acceleration I would try and catch it all up on the brakes. It was my mistake. I ran into the last corner wide and was probably a metre off line and when I tried to pull it back I lost the front. This wasn't the result I wanted going into my home race next week at Laguna Seca but I'm more motivated than ever to get back on track and recover from a pretty difficult period in the season for me. I love Laguna and the atmosphere created by the fans and rest assured I'll be aiming to get myself much closer to the front where I know I belong in front of my home crowd."
Herve Poncharal – Team Manager
"Ben was once again very impressive this weekend and he showed that he is an expert at learning new tracks. Unfortunately his race was dictated by his qualifying position and being so far down through no fault of his own was difficult. It was a pity because we saw that he had the pace to run in the group battling for fifth. He was catching them a lot and as always he was very fast at the end of the race. He finished the weekend on a high note and he is really fired up for Laguna Seca next week now. It was a shame that Colin crashed in the first part of the race and unfortunately he has not been able to reach the level of performance we know he can this weekend. He's never given up and worked really hard with his crew but thankfully he wasn't hurt in the crash and I know he is incredibly motivated to perform better at Laguna Seca. The whole Monster Yamaha Tech 3 Team is looking forward to Laguna Seca because the support for Ben and Colin will be incredible."
Popularity: 1% [?]