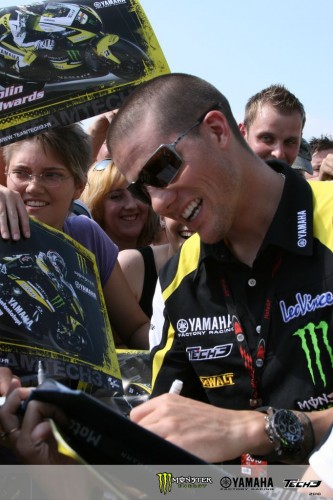 Ben Spies once again demonstrated his ability to quickly learn new tracks and be competitive from the off. Spies posted a best lap of 1.23.189 which put him in 4th place on the time sheets in today's first free practice session for the German MotoGP at Sachsenring.
The Sachsenring is the sixth track out of the first eight races that Spies has had to learn from scratch and the reigning World Superbike champion spent most of the session learning the tight and twisty layout using a hard compound Bridgestone rear tyre.
But once he switched to the softer option he is likely to select for Sunday's 30-lap race as track temperature hit a sizzling 55 degrees, he was immediately able to surge up the leaderboard and catapult himself into contention for a top five.
Just five minutes remained when Spies clocked his best time and it was only a late attack from fellow American Nicky Hayden that denied the 25-year-old a stunning top three position.
Colin Edwards started round eight of the 2010 MotoGP world championship opting to run a radically different set-up on his YZR-M1 machine.
The experienced Texan's new direction saw his crew move more weight to the rear of his bike, while Edwards also modified his own style to change his body position to help turning performance.
Edwards was immediately able to ride at a comfortable and consistently fast pace with the revised setting and found himself in third place at one stage in a closely fought session.
Edwards declared himself satisfied with the outcome of the changes and he's confident with more time to fine-tune the new set-up that he has the potential to be much higher up the timesheets during tomorrow's qualifying session.
He finished with the 13th best time after posting a 1.23.440, but was less than three-tenths away from Spies in fourth.
Ben Spies 4th 1.23.189 – 34 laps
"I'm really happy to be so high up after the first session and I think I figured out this track pretty quickly. It is good to start the weekend in the top five and that gives us a platform to build on. This circuit is pretty tight and twisty and there are a lot of left-hand corners but I like it because there is quite a lot of elevation that makes it fun. It felt like being out on a dirt track bike and I see Nicky is right up there too. If the weather isn't as good tomorrow I'm really glad that I got going today and was able to get a feel for the track but also put in some fast lap times. I went out on the hard tyre, which I don't think I'm going to race on, just to learn the track and when I put the softer tyre on I was able to go quite a bit faster. There are a couple of places where I can improve like the left-handers before the fast right downhill section but it was a decent start. I'm pretty sure already that I'll race the soft tyre. I'm sure I can do the times on the hard tyre but we'll see what the conditions are like. It's a positive start and that's all I can ask for."
Colin Edwards 13th 1.23.440 – 31 laps
"The nature of this track means the times are always close and I'm not even a second off the best time but I'm down in 13th. I'm only around three-tenths behind Ben but he's nine places further up than me. I've completely changed the setting of the bike here and that's meant putting way more weight on the rear than I've ever done. My riding style is typically all over the front-end but with the results not being what I've wanted or expected so far this season, it was time to change something. So I've just got to trust the front and work on the rear. I'm putting more of my body weight on the rear and with the setting of the bike, we've shifted a lot of weight back on the rear and it works really good so far and it feels easier to make the lap time. I ran the soft tyre for most of the session and used the hard one at the end just to get some information. I did my fastest time on the hard tyre but I'd say I'll race the soft one. There is not a lot of difference in performance between the two and I did my best time on the hard one at the end when I was feeling more comfortable and used to the new setting. But I think with the softer tyre I can definitely go faster."
Popularity: 1% [?]