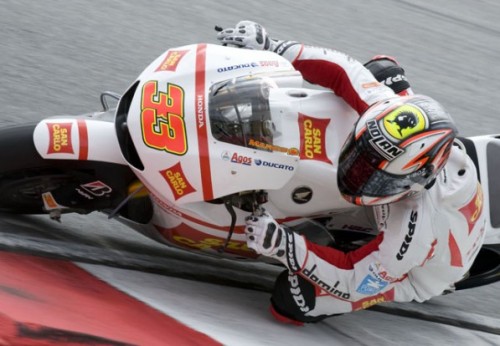 Honda Gresini unveiled their new team livery at the 2nd MotoGP Sepang test (photo above). 'Team Marco' (Melandri and Simoncelli) struggled in the heat and both riders finsihed in the second half of the grid (Melandri came 10th and Smoncelli came 16th)
Press Release:
Two more days of testing for Team San Carlo Honda Gresini began today with Marco Melandri and Marco Simoncelli picking up where they had left off in the last session at Sepang three weeks ago. Intense heat put the riders through a gruelling workout although thankfully the thick black clouds hanging over the circuit did not turn into the traditional heavy downpour.
Both riders took to the track at 10am riding their RC212V machines decked in the new 2010 Team San Carlo Honda Gresini livery and they were able to work without interruption until 6pm. Work focused around setting up the new Honda RC212V, in particular the suspension and electronic settings, and both riders reported positive results at the end of the session. Melandri made gradual improvements to his pace and as a result drew gradually closer to the top riders in comparison to the last test. Whilst Simoncelli remains somewhat off that pace the rookie is still satisfied to have further improved his feeling with the bike and by the fact that his best lap time came on a used tyre. Work continues tomorrow, when the riders will look to build on the suspension and electronics data gathered today.
Marco Melandri (58 laps 2'02.086 )
"It has been a very tough day but also very enjoyable. With the data from the last test we knew we were going to able to work much better from the start today and begin to reap some of the fruit of our hard work. Now I am closer to the front guys and this is an important step forward. There is obviously still a lot of work to do but the results today give us a real confidence boost. Unfortunately I still don't have a feeling that allows me to get the best out of the soft tyre feeling otherwise we could have gone even faster. All in all I'm happy and looking forward to tomorrow. "
Marco Simoncelli (62 laps 2'03.254)
"I am continuing the learning process in MotoGP and I am happy to work like this, without overdoing it. My objective is to continue to improve my lap times but at the same time find a better feeling for the RC212V. Today wasn't easy, that's for sure, because of the heat, which everybody knows I don't like, but I think I can be happy. I'm starting to ride the bike how I want to and how my mechanics, who like me are new to this category, want me to and we're making progress. We learn something new every day – I know we don't have many days left until Qatar but I am sure that by then we'll be holding our own."
Fausto Gresini
"I wanted to be in Malaysia for this test to be with the team and to help out in any way I can. Today we sent the bikes out with the new livery and that filled me with joy. Then I saw how strong and determined Melandri is looking – he made some important steps forward today, closing the gap on the front guys, and his optimism after the last test was well placed. Simoncelli also looked to be making progress, not so much in the lap times but I have watched him out on the track and I can say that he is starting to look as one with the bike. He wasn't out there looking for a lap time and nobody was asking him to – he needs to grow day by day and find the best possible feeling with the RC212V, which is what he is doing and I am satisfied with that. Naturally there is a lot still to do with the suspension and electronics so we're expecting another day of hard work tomorrow. "
Simoncelli shows off new Gresini Livery: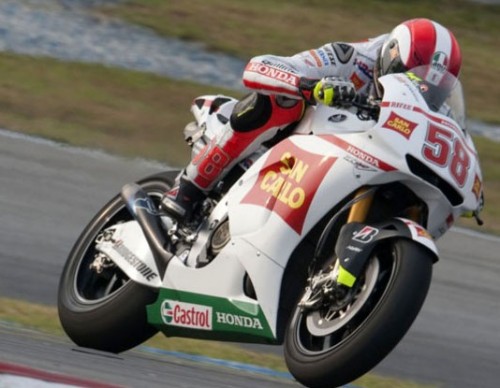 Popularity: 1% [?]