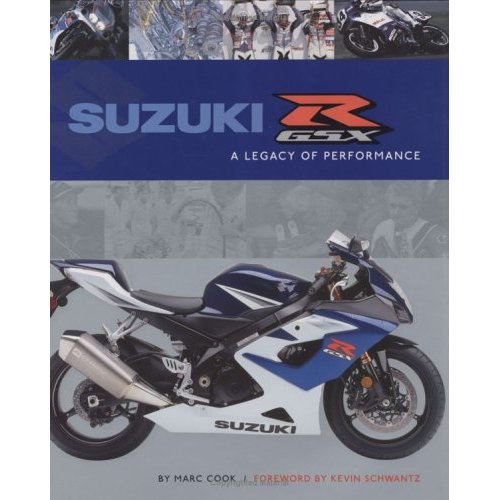 This is a great book for all Suzuki fans. It traces the history and development of this insanely popular bike, from conception, through development, and to street and track success. This manages to be a very accessible book, without skipping on any of the technical detail. A great read for anyone interested in the birth of this ground-breaking machine.
It also features a foreward written by Suzuki legend Kevin Schwantz.

Book Description:
Suzuki's GSX-R series is synonymous with performance and has become one of the most evocative marques in motorcycling. Its groundbreaking design established an entirely new category of race-replica motorcycles and forced competing manufacturers to respond to the GSX-R by adopting new technologies and often abandoning their own favored designs. To say the GSX-R forced the hand of sportbike makers everywhere is a dramatic understatement.
Suzuki GSX-R: A Legacy of Performance explores the roots of the original GSX-R750 concept, its showroom and racetrack successes, and how its eye-opening performance, lightweight design, and charismatic personality established a new market segment that Suzuki continues to define. Each generation of the GSX-R family is explored through interviews with Suzuki engineers and designers.
Virtually every member of the original GSX-R development staff is still associated with Suzuki, and they all offer recollections of the bike's gestation, providing priceless insight on the breakneck-speed engineering required to bring a light, fast race bike to the street. Readers will be taken inside the off-limits Ryuyo R & D center and proving ground, where the engineering and development of the GSX-R models are carried out. This is followed by a virtual factory tour that shows a GSX-R being built step by step. Suzuki GSX-R: A Legacy of Performance offer's an insider's look at the most influential and winning marque in motorcycling, with hundreds of behind-the-scenes photographs, many of which have never before been published.
About the Author
Marc Cook has been in motorcycle journalism for twenty-two years. His extensive background in aviation and automobiles gives him a thorough technical understanding seldom found among his fellow journalists. He is the co-author of Ducati 999: Birth of a Legend, with Alan Cathcart.
Where to buy Suzuki GSX-R: A Legacy of Performance by Marc Cook:
Best prices can be found online at Amazon.
More detail below:

US:


UK:

Popularity: 1% [?]