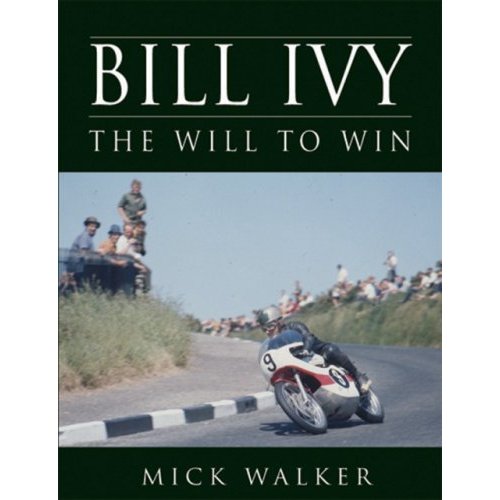 This is the brilliant new book just released on the life of ex-world champion and Yamaha legend, Bill Ivy.
Book Description
When Bill Ivy was fatally injured while practising for the East German Grand Prix in July 1969, motorcycle racing lost one of its greatest ever competitors. As a tribute to Bill, leading bike author Mick Walker has written Bill Ivy: The Will to Win. Bill Ivy was certainly not only a great rider, but a unique personality. He had a steely determination to succeed, an almost fearless courage, which meant he never backed away from a challenge, a love of fashion and fast cars – and although only 5 feet 2 inches tall, he more than made up for his lack of stature, by his immense upper body strength, which meant he could cope with any size of motorcycle from a 50cc Itom to a 750cc Norton-engined matchless G15 CSR. It was as a member of the Yamaha factory team that he not only became world champion, but also set the first 100mph TT lap record on a 125cc machine – only a decade after Bob McIntyre had first achieved his feat on a machine with an engine size four times larger!
About the Author
A leading authority on all forms of motorcycle sport, he has been a successful racer, tuner and team manager, and still rides regularly. He was a former editor of Motorcycle Enthusiast, and published over 100 books including in this series, Derek Minter: The King of Brands, Geoff Duke: The Stylish Champion, Bob McIntyre: The Flying Scot and Mike Hailwood: The Fans' Favourite.
Hardcover: 240 pages
Publisher: Breedon Books Publishing Co Ltd (1 April 2009)
Language English
Where to buy 'Bill Ivy: The Will to Win':
Best prices can be found online at Amazon:
More Detail:

US Readers:

UK Readers:

Popularity: 1% [?]