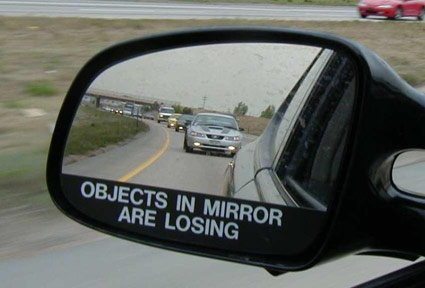 Not wanting to promote irresponsible behaviour or anything……but these stickers are brilliant. This is clearly a spin on the usual "Objects In The Mirror Are Closer Than They Appear", but it addresses the universal truth that probably many people drive with – that in actual fact "Objects In The Mirror Are Losing".
There is a whole range of 'objects in the mirror are losing' stickers now available for most models and makes of motorcycles and cars. They are ridiculously cheap (after all, it is only a set of stickers) and are priced from $2.50, and come in sets of 2. They make a great gift for, hmmm, well anyone you want to encourage to drive faster I guess. Perhaps someone you don't like too much.
Product Description:
High Quality Vinyl Decals 4″ x 1/2″ each
Various designs (black backgrounds, clear and see through backgrounds, various typefaces etc…) all available
Adheres To any Smooth Surface (Glass, Paint, Plastic, ETC…)
Self Adhesive Decal with transfer tape for a fast peel and stick install
I want to be irresponsible, where can I buy a set?
You can buy them for most models of cars and motorcycles at Amazon.com
.
Popularity: 8% [?]