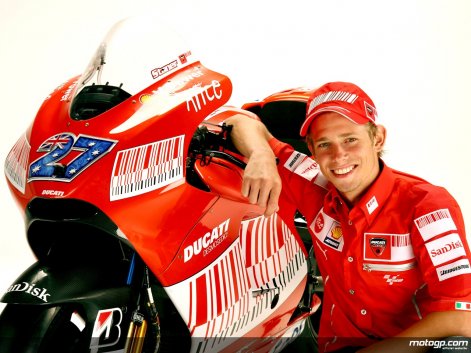 In an interview with MotoGP.com Casey Stoner has come out and stated that he feels there isn't much else that he needs that he didin't already have last season in order to beat Valentino Rossi to the 2009 World Championship. Bit of a tongue twister that.
In Casey's words:
`To beat Valentino we don´t need anything more than what we had at the end of last season. If things go right then we know that we are fast enough to win. We´re not alone either; Dani (Pedrosa) can do it, Jorge (Lorenzo) can do it, and there´s probably a couple of others that can push us as well.´
`I think that people use the excuse of lack of testing a bit too much. A bike´s got two wheels, handlebars, brakes, gears and the clutch,´ says the Australian, who missed the last test of the year at Jerez following wrist surgery.
`You´ve probably got to get a little used to the feeling and direction of the setup, but four days of testing before a season is enough.´
`The single tyre will make people have to work a lot harder on setup, rather than just throwing on a set of tyres that make things feel better. This will be good for us in a way, because we´ve always worked around things and maybe had harder tyres when everyone else is on softer rubber.´
Testing for the MotoGP riders commences again on February 5th in Sepang.
Popularity: 1% [?]