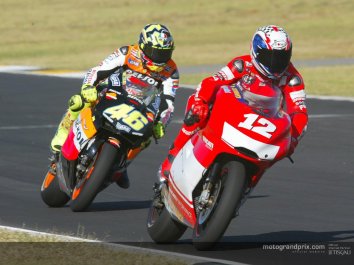 WSBK Champion Troy Bayliss has proposed a price tag of £1million to race Valentino Rossi on World Superbike spec machines – Yamaha has a decent bike in the World Superbike Championship series that could potentially go head to head with the Xerox Ducati that Bayliss won the 2008 championship on.
World Superbikes has been touted as a more exciting alternative to MotoGP in its current state, with senior MotoGP riders like Valentino Rossi and Loris Capirossi both recently stating that the racing, and larger number of riders in the WSBK series made for more exciting spectacle.
"I spoke with Valentino and he told me that he wants to race me really badly," Bayliss told motorcyclenews.com. "It wouldn't be so hard for him to be competitive on a superbike. Yamaha have got a strong bike so it would be no problem at all for him to get up to speed. Valentino Rossi is Valentino Rossi.
"For me right now, I've stopped training and I'm happy with my plan to finish. I'm feeling happy that the last time I rode I was world champion plus I won both races and beat all the other guys out there. For me to do it I'd need something like £1 million and that's not going to happen."
One potential way for this to happen would be for Rossi and Bayliss to both enter as wildcard riders……..but I just can't see this taking place. You'll more likely see Dani Pedrosa sharing a garage with Jorge Lorenzo.
Popularity: 2% [?]