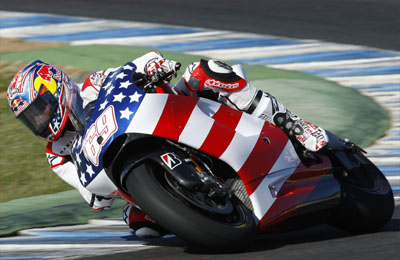 Alice Ducati's Niccolo Canepa was the fastest Ducati rider at Wednesday's Jerez testing session, but new Ducati Marlboro signing Nicky Hayden remained upbeat as he comes to terms with his new bike and where he feels he needs to improve. Hayden finished in 10th place on the timesheets and was off the pace, but where Melandri failed before him, Hayden remained positive about his chances of finding a competitive race pace with the Ducati, and completed, rather appropriately, 69 laps.
Nicky Hayden lapped alongside factory test rider Vittoriano Guareschi, with team-mate Casey Stoner watching from pit wall.
Nicky Hayden – 10th fastest – 1'42.098 (69 laps)
"It has been nice to get back on the bike and get on with the job in decent conditions. The new surface is perfect, the bumps have disappeared and the grip improved with every lap. They've done a great job here at Jerez. I'm quite happy with my feeling with the bike. The lap times came down with virtually every outing and that's positive, even though I'm still clearly a good way off the pace. We've got a lot of work ahead but the team is really close and we know that bike has the potential, so all we can do is keep working. Both tyre specs that we tried today worked well, although the softer one was obviously the preferable option in these temperatures. They've got no problem in terms of durability and I'm slowly starting to get used to the feeling the Bridgestones give back. Hopefully the good weather continues tomorrow."
Casey Stoner
"Yesterday the doctors told me that everything is going okay with my wrist, now I must wait and see. With the new cast they did yesterday I will be able to start some training on a pushbike so that is positive. In a few days I'll be heading back to Australia and it will be nice to be home for a while. It was a very strange feeling to be watching today instead of riding. This is probably the longest period I've gone without riding a bike at all since I was three years old! I'll definitely have a lot of motivation to get back on track in February. It is good to watch the bikes on track together with my engineers and then speak about it with Filippo (Preziosi) and Nicky, to share our feelings and see what we can do to improve our machine for next season."
Stoner should be allowed to start light training in two weeks time.
Popularity: 3% [?]