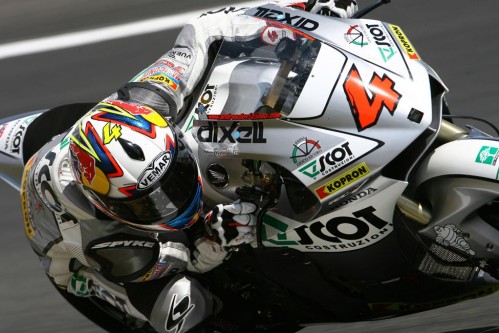 The other 'non secret that was supposed to be secret' from Honda was confirmed this weekend – Dovizioso will join the Repsol Honda (HRC) team for 2009. and race alongside Dani Pedrosa.
HRC chief Masumi Hamane announced it officially this weekend: "in Andrea's Grand Prix motorcycling career he has always ridden a Honda. We are convinced that he is ready for the challenge which awaits him in 2009". After the well publicised support of Dani Pedrosa and effectively the construction of HRC's recent racing and engineering efforts that hand a hand in driving Nicky Hayden to Ducati, Hamane obviously thought he needed to add that both riders "will get the same treatment from the factory at the start. Then if one rider pulls ahead in the standings he will get special attention".
Dovizioso stated: "For me this is a dream come true. I've raced with Honda these past seven years because this is where I wanted to arrive. I can't wait for this year to end so I can begin my new job. I'm sure we're going to have a great season,"
In regard to his past rivalry with Pedrosa, the Italian said: "I prefer to get along with everyone but if Pedrosa doesn't want to have anything to do with me, it's not going to be a problem".
Popularity: 1% [?]