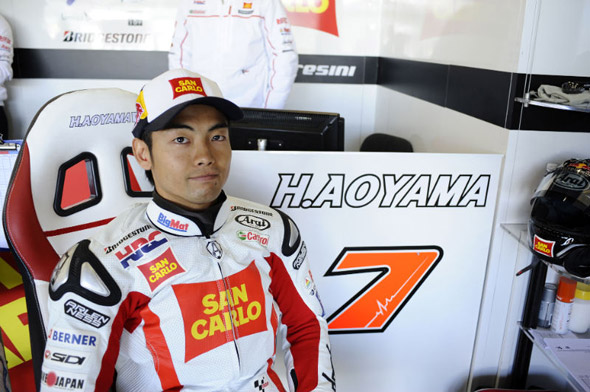 Hiroshi Aoyama, Marco Simoncelli's team-mate at Gresini Honda, has updated his personal blog with an entry on Simoncelli.
The Gresini MotoGP team will be attending the final race at Valencia in order to display Simoncelli's bike, but it is not yet confirmed if they will take part in any racing action. If they don't compete, then Aoyama could have had his last ride in the MotoGP class (he moves to World Superbikes next season).
Aoyama composed a personal and heart-felt message for his team-mate which you can read below:
Aoyama wrote:
"My team mate Marco crashed during the race. He was fighting hard for his life but unfortunately he passed away. I cannot think of any words to describe this tragic loss.
He has been my rival since the 250's and since we both started in Moto GP class, I could feel the tension in between us and we were always aware of each other as rookies. And now, we have been competing in the same championship as a team mate. He is such an openhearted person, no matter where he is. I know everyone had a high expectation of him since he has been performing so well.
He is loved by so many people and I know why. Last week he came second and was on the podium. And this week again he was so powerful on his bike….. but why…..? How…..? That is all I can think right now.
I would like to give my condolences to Marco's family, fans, teams and staff. Rest in peace Marco."
Popularity: 3% [?]