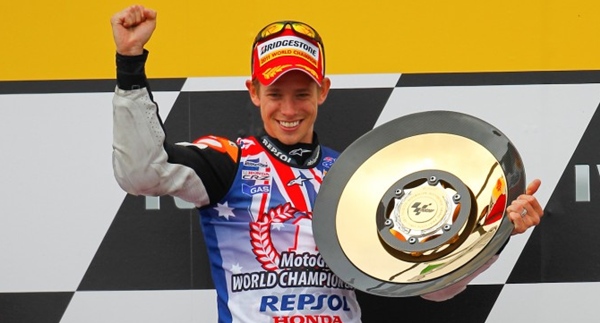 For a number of races now, few people have doubted that it would be Casey Stoner who would be lifting up the MotoGP Championship trophy, but hardly anybody would have predicted it would end so perfectly for Stoner – on his 26th birthday and at his home race.
Today's victory marked Stoner's 5th consecutive win at the Phillip Island circuit, and as well as making Stoner the 2011 World Champion, it also made Stoner the first and last 800cc Champion. A nice way to book-end the 800cc era.
Casey Stoner:
"I don't think anyone could plan things to happen better than they have today! The race was incredibly difficult, the conditions we're very tough. I built up an early lead as I saw the rain coming in, but I wasn't sure if it would hit us. I basically ran into a wall of rain, there wasn't any warning at the back part of the circuit and I came into the last turn and the rain started hard. I nearly lost control and thought for sure I was going to end up in the gravel. I managed to control it and maintain the gap to everyone and thankfully bring it home for the win, but it was a little bit nerve-racking for sure. I'm really sorry that Jorge had the accident this morning, he's great competitor and I think if he'd been here racing today things might not have turned out the way they have, I hope his operation goes well and he's back racing as soon as he feels fit. I can't thank everyone enough, my team, Repsol, all our sponsors, everyone that has worked so hard all year, thank you!"
Shuhei Nakamoto – HRC Executive Vice President:
"The feeling is of course very happy, today I can relax little bit, because almost every night I wake up thinking about something, doing some memo to remember to check or do something… this is my first feeling after the race! I want to say to all Honda fans and sponsors, thank you very much for your support and especially to all Honda people and in particular to everyone at HRC and in Honda R&D centre. Then I'd like to thank the Repsol Honda Team crew, all of them! A big thanks to all our Honda riders that push each other during this season and achieved great results. Then of course I want to thank Casey Stoner. He did a great job since the first day he rode the RC212V and he brings great enthusiasm to everybody in HRC. Tonight we will celebrate, but starting from tomorrow morning we will start working again to finish this season at top, win the Team Championship and to prepare th e 2012 new challenge with the 1000cc.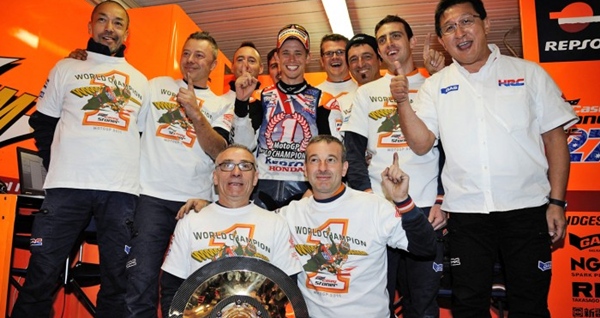 Popularity: 2% [?]