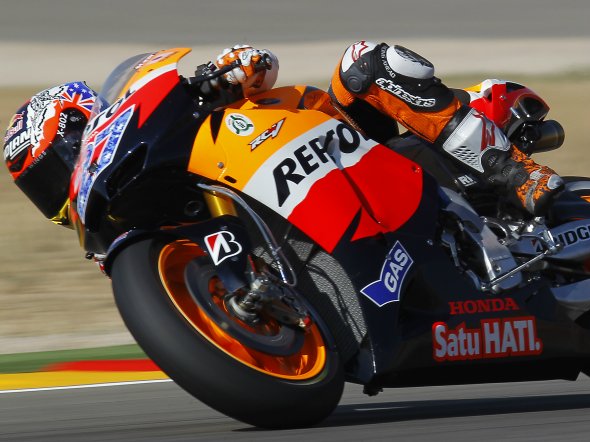 Casey Stoner was pretty much untouchable in Aragon as he took pole position for tomorrow's MotoGP. This is Stoner's 31st pole position of his career.
Stoner's session wasn't without incident, shortly after setting a pole time he suffered a minor crash and ended up in the gravel with about 10 mins to go. Obviously unphased by the crash, Stoner went out on his second bike and posted a faster lap with 2 minutes of the session to go.
Dani Pedrosa took second place, and Ben Spies managed a late surge to take 3rd.
Jorge Lorenzo looked disheartened throughout the session as he struggled to match the front runners and despite feeling more comfortable with his grip when the soft tyres went on, he was only able to manage 4th place.
More issues for Ducati as Rossi crashed early on, and ended the session in 13th. Nicky Hayden was the fastest Ducati in 7th place, and both Randy De Puniet and Karel Abraham both qualified higher than Rossi.
At the end of the Qualifying session, Race Direction warned the teams to lock down their garages tightly as high winds and rain are expected from 9am tomorrow morning – which should make for an interesting and frantic race.
Full MotoGP qualifying times from Aragon:
1Casey STONERRepsol Honda Team1'48.451
2Dani PEDROSARepsol Honda Team1'48.747
3Ben SPIESYamaha Factory Racing1'49.155
4Jorge LORENZOYamaha Factory Racing1'49.270
5Andrea DOVIZIOSORepsol Honda Team1'49.372
6Marco SIMONCELLISan Carlo Honda Gresini1'49.528
7Nicky HAYDENDucati Team1'49.752
8Karel ABRAHAMCardion AB Motoracing1'49.777
9Hiroshi AOYAMASan Carlo Honda Gresini1'49.813
10Randy DE PUNIETPramac Racing Team1'49.826
11Alvaro BAUTISTARizla Suzuki MotoGP1'49.883
12Cal CRUTCHLOWMonster Yamaha Tech 31'49.893
13Valentino ROSSIDucati Team1'49.960
14Hector BARBERAMapfre Aspar Team MotoGP1'49.976
15Colin EDWARDSMonster Yamaha Tech 31'50.105
16Loris CAPIROSSIPramac Racing Team1'50.752
17Toni ELIASLCR Honda MotoGP1'51.073
Popularity: 1% [?]