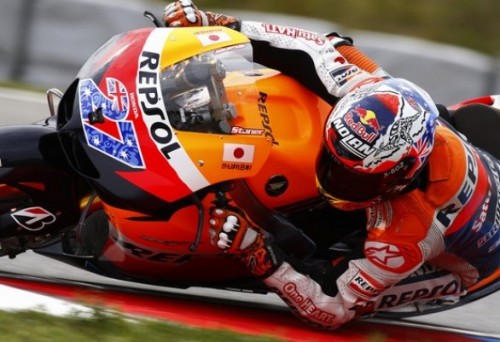 The Brno MotoGP saw an all-Honda podium, with Marco Simoncelli finally getting his first taste of a MotoGP podium.
Casey Stoner blew away the field to take victory, while Dovizioso and Simoncelli who finished second and third respectively are still unclear about what (if any) factory support that they will receive from Honda next season.
Casey Stoner
"We knew we could make a strong podium challenge today but we didn't really expect the race win. As soon as the race got underway I was having a good battle with Andrea but this cost me a little time and I was afraid that Jorge and Dani would stretch away from me but when I got past I found I had plenty of speed to catch up and the bike felt great. I passed Jorge and then Dani sadly crashed out so I pushed to see if I could pull a gap and I was able to do so quite quickly, then from this point it was a matter of managing the race. I'm very sorry for Dani, he would have been hard to beat today. After such a hard weekend it's fantastic to come out with a comfortable win, a big thanks to my team who never give up, they always support me so a huge thanks to them. Tomorrow we'll be back on the 1000 for another day of testing, so I hope the weather stays dry for us!".
Andrea Dovizioso:
"I'm really happy to be back on the podium, it's a good result after a difficult weekend and second position is so important for the Championship. In the warm up we made some small changes and my feeling improved. I arrived at the race very determined and I made a very good start from seventh position. In the first laps I was riding cautiously to save the tyres. I had good pace and when Dani crashed I tried to stay with Casey but I made a mistake at turn 13 and I almost went off the track. I lost contact and from that moment Casey built a gap that was impossible to catch. I'm happy of how I managed the race first with Lorenzo and then with Simoncelli to maintain second position. In the final five laps I pushed harder, lapping under 1′58 to maintain the margin from Marco. I didn't want to fight with him in the last corners. I want to thank Honda and the team for the good work, despite the fact that we struggled slightly over the weekend, we have demonstrated one more time that in the race we are there and I'm really looking forward to Indy in two weeks time".
Marco Simoncelli:
I am really happy. I have been very strong this year but it has been tough because we have had some difficult situations to deal with. Me and the team have never lost our faith though and finally the result has come so I want to thank all of them, as well as Honda and anybody else who has maintained their belief in me. On the last lap today I just wanted it to be over and nothing bad to happen and thankfully it all worked out. I am really delighted. I didn't make a great start and had to pass Valentino, who fought back for three corners and I have the tyre marks on my leathers to prove it! It was a nice battle even though it was short. I tried to attack Dovizioso at the end but he was pushing hard and I decided to settle for the position because I knew Lorenzo was making up ground behind me.
Jorge Lorenzo:
The front tyre we chose was not the best option today. We tried it in qualifying and yesterday morning and it gave me a really good feeling and very constant pace. Today with the different conditions and temperature it was not working. From the beginning of the second lap I was really close to losing my front in every corner so it was difficult to improve on fourth position. The Championship is now even more difficult for us but that doesn't mean it is finished. There are still a lot of points to be played for so we must focus on winning the most races we can. Now we must forget this race which is probably one of the worst this season and possibly in my MotoGP career, I am excited to try the 1000 bike and improvements to the current 800 engine tomorrow as well!"
Ben Spies:
That was a hard race; I wanted to quit every lap past the ninth! I tried as hard as I could and didn't make too many mistakes. I just thought with Valentino coming behind me and being ahead in the Championship I've just got to keep on going until I fall of this thing. I didn't fall off and I finished so it was a good result. Now it's the complete opposite, it's my right arm that's completely dead because that's all that was working in the race. Again I've got to thank the team; the bike was really good and definitely a podium bike. I've also got to thank the Clinica guys; I've never been in there so much, every day! That was the hardest physical race I've ever done. We got it finished, put it behind us and we scored some points.
Valentino Rossi:
I'd say we can be pretty pleased, as we took a step forward. I must say that Filippo and Ducati has been intelligent, because just with some small changes, we were able to get a good result, improving in both wet and dry conditions and in both qualifying and the race. Now I'm able to ride the bike better under braking and on corner entry, and I can use the front tyre better. We started with the goal of fighting with the group ahead of us, but unfortunately we made a small mistake with the start procedure for heating the tyres and the first two laps were difficult, without enough grip. It's a lesson that we'll remember next time. I didn't have a great start like I did at Laguna, for example. That would have helped a lot, because from the third lap to the finish, I had the same pace as the two Yamahas, and even 'Sic' wasn't so far ahead. It's sixth place, but it's a sixth place that's much more important than our other results. The gap is much smaller, although I backed off in the final laps since there was nothing else I could do. Otherwise, I would've been just ten seconds from Stoner and much less than that from the podium. Now we must focus and take another step. We'll try the 800 tomorrow, and it will be a very important test for confirming other new details and for continuing work on the setup. We'll probably take a couple of final runs with the GP11, but we'll definitely be continuing with the GP11.1. Finally, I'd like to compliment 'Sic' for a podium that he really deserved, for today's race but also for what he has shown this season.
Nicky Hayden
"It's been a really tough weekend right from when we got the bikes out of the crates from Laguna, but we chipped away at it. The guys have worked extremely hard, and we got better and better. We even made a change after the morning warm-up that actually helped a bit, although I didn't really understand it the first few laps, and the group was already gone. I held on and got seventh, which isn't fantastic. Still, the gap to the front is the closest it's been this season, which is positive. The bike was really good in a few places, but I was slow in change of direction and couldn't get the bike to finish the corner and was spinning the tyre a lot. We also need to understand why I had the slowest top speed. It would've been nice to hang onto that front group a bit longer, but Colin pushed me all the way to the end. The work's far from over for this weekend, because we've got a big day tomorrow. Valentino tried some new parts on the front that they seem real happy about, so hopefully I can try those tomorrow. Test days are so important, and we really need a dry day tomorrow to try to make a big step."
Colin Edwards
"I said yesterday that if I finished in the same position that I started that I would be pretty happy. I guess I am pretty happy but it was not an easy race. I know I gave it my absolute maximum out there but eighth position was the best I could do but by no means was it a bad weekend. In the Warm-up this morning I had zero traction, so we made a small geometry change for the race and it was definitely better. I had more grip but the lap time was the same as this morning. All I kept seeing on my lap timer on the dashboard was 58.5, 58.5. It must have been like that for about 14 laps in a row and at one point I thought it had broken. I just couldn't go much faster and it seems we are lacking traction compared to the others. I was spinning the rear tyre a lot and right now our bike feels a little bit unforgiving. I was right on the back of Nicky for pretty m uch the whole race but I couldn't do anything with him. Our lap times just didn't deviate at all, so I couldn't get close enough to him. It wasn't like he had more grip than me, but because we were doing the same pace I didn't get close enough to attack him."
Hiroshi Aoyama
"I am satisfied to have finished the race and to have finished it in ninth place. We had some grip problems but overall the bike was working well. I felt physically good and that means I can now look forward to the remaining races. I am also happy for Marco – it is a good day for the team and I want to congratulate them all."
Héctor Barberá:
"It was a pretty difficult race, as I had problems with the front end five laps in and they wouldn't go away. Between the previous race and this one we worked hard on the front, but we still have a few things to resolve. Today it felt like I was losing the front when I hit the brakes on certain corners. This wasn't helped by the fact that the tyre was gradually degrading and making it tougher to brake hard every time. I tried to make the most of things at the start and push whilst I still had some confidence. Normally I do things the opposite way and end up riding faster as the race goes on. A few riders who had been behind me caught up with two laps to go, so I had to turn my focus to defending their attacks and shutting all the doors. This little battle at the end was fun, and I didn't lose any places from it. We made some changes just to try something new, but they didn´t work on well. That's why we will be back to our normal settings for Indianapolis."
Toni Elias
"Well… My start was not brilliant today because I have slipped on a dirty part of the surface and could not catch the first 5 riders in the first corner which was my target. After that my pace was quite good but not enough to follow Aoyama and in the last two laps I had fun battling with Barbera for the 10th position. At the end he beat me but the most important thing for me is our pace in the race because today we have finally reduced the gap to the leading group. This is a positive step forward for me and the Team and we will try to get further improvements tomorrow".
Randy De Puniet
"It was a complicated race. The pain in my back increased compared to yesterday, so my movements were limited and I didn't have enough energy for the entire race. I had a poor start, behind everyone. Then I started to recover some ground on the others, but there wasn't enough time to make up positions. I tried to put myself in the group with Elias and Barbera, but the pain was too strong for me to fight. I was only thinking of finishing the race. Although I'm not satisfied with the race, I did glimpse some improvements regarding the bike. With a better start, I would have finished the race in the top ten positions."
Loris Capirossi
"As long as my physical condition was able to support the bike's weight, I was able to keep up with Randy and Toni [Elias], but then my arm was hurting so badly that I was just thinking of finishing the race. It's a shame that we continue to encounter problems, and we're not able to ride the bike in the right way. Fortunately, tomorrow's test will give us the opportunity to try to solve some of our many problems. It won't be easy, but we'll try our best."
Cal Crutchlow
"Nobody is more disappointed than me with what happened because another crash is the last thing I needed. I am currently having a difficult run of races but all I can do is get my head down, work hard with my crew and try and put things right in the future. At the moment I am struggling with grip in the front-end and we seem to have been going round in circles a little bit to find a solution. Today I was off brake and accelerating at the first corner when I lost the front. The last person who wants to crash is me, but I can only do my best. I am sorry to my Team and Yamaha but I am s ure they realise that I am trying as hard as I can to get a good result. We've got a test tomorrow and that is important because we can work on the bike without the time constraints of practice. We can dedicate all our time to trying to give me some confidence back in the front. I still believe in myself and I am determined to get a good result in Indianapolis."
Alvaro Bautista
"I have a strange feeling because I am frustrated that I didn't finish after crashing, but I am also quite happy because I did all that was possible to stay with the front group. I was riding just a few seconds behind second position and, after starting from the back of the grid, I was pleased about that. I made a good start and got past some riders in the first few corners and before long I was behind the quick group. After that I pushed to my maximum – I was on the limit, but everything was under control – and then with six laps to go I crashed. I lost the front and it was strange because I entered the corner like the lap before and felt nothing wrong. I want to say thank-you to all the team and the sponsors for their confidence and support. I also want to say sorry because it has been a difficult weekend for everybody; we started with two bikes and only had one in the race and none at the end. We expected a good result here, but at the end we are very disappointed with what happened. We need to keep working well in the next few races, we have a good race pace and rhythm, but we need to improve in qualifying because starting from the back means I have to give more effort at the start to catch the front group. I think if we start nearer the front we can stay with the group a lot easier, and the results will come."
Dani Pedrosa:
"It was a shame. I lost the front and I crashed, that was it! I was not even pushing so hard, I just took the lead and, well I may have tilted the bike too much, maybe the tyre was not warm enough, still I don't know. The problem is that I've wasted an important race that we had prepared for very well. I have to thank the team for the bike they gave me this weekend, it worked really well, and I will tell them I'm sorry for the mistake. It hurts because we were well prepared and finally the race was quite slow compared to the pace we did in practice sessions, but we can not do anything, just think towards the next one and try to get back on top. Let's hope that tomorrow we can have at least some hours in the dry to test the 1000cc. I've been looking forward to see how the new machine is after missing the Jerez test and I would like to make some good laps tomorrow".
Karel Abraham
"I made a good start and got behind Loris Capirossi. I wanted to overtake him but the front wheel slipped on the exit of the corner and I crashed. It was a small crash and I was able to re-join the race. The motorcycle wasn't working properly and I lost a lot of time in a every lap. I squeezed the clutch and turned electronics on and off, but it didn't helped. I am sorry I didn't finish the race in front of my home crowd.
Popularity: 1% [?]