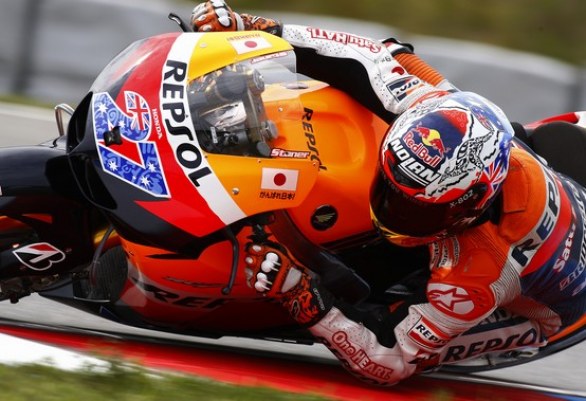 Casey Stoner was dominant in the MotoGP qualifying session at Indianapolis to take pole position for tomorrow's GP. Stoner found his form early and was mostly untouchable at the top.
Last year's pole sitter, Ben Spies, was also consistently quick and took second place ahead of his team-mate Jorge Lorenzo.
Lorenzo struggled with feeling throughout the session and needed to push his Yamaha to the limit to claim 3rd place.
Valentino Rossi had another forgettable outing on the Ducati – he crashed at the start of the session and was forced to return to the pits and use his second bike for the remainder of the session. Rossi eventually qualified in 14th position, with Nicky Hayden finishing as the fastest Ducati in 9th place.
MotoGP Qualifying results from Indianapolis:
1Casey STONERRepsol Honda Team1'38.850
2Ben SPIESYamaha Factory Racing1'39.373
3Jorge LORENZOYamaha Factory Racing1'39.629
4Dani PEDROSARepsol Honda Team1'39.947
5Andrea DOVIZIOSORepsol Honda Team1'40.024
6Colin EDWARDSMonster Yamaha Tech 31'40.098
7Marco SIMONCELLISan Carlo Honda Gresini1'40.204
8Nicky HAYDENDucati Team1'40.244
9Alvaro BAUTISTARizla Suzuki MotoGP1'40.333
10Hector BARBERAMapfre Aspar Team MotoGP1'40.360
11Cal CRUTCHLOWMonster Yamaha Tech 31'40.620
12Randy DE PUNIETPramac Racing Team1'40.815
13Hiroshi AOYAMASan Carlo Honda Gresini1'40.925
14Valentino ROSSIDucati Team1'40.975
15Toni ELIASLCR Honda MotoGP1'41.030
16Karel ABRAHAMCardion AB Motoracing1'41.085
17Loris CAPIROSSIPramac Racing Team1'41.092
Popularity: 1% [?]