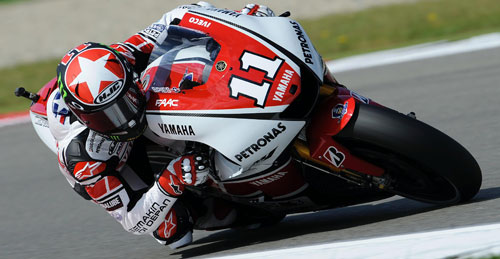 Ben Spies turned into an early 'home hero' as he set the fastest pace in the first MotoGP Free Practice session at Indianapolis.
Spies was able to knock Casey Stoner off the top spot and defend his position with a late charge. Another Amercian, Colin Edwards, found home inspiration to finish 3rd, with Marco Simoncelli in 4th and Nicky Hayden in 5th.
Hayden managed to just edge out his team-mate Valentino Rossi.
Full MotoGP practice times for Indianapolis:
1Ben SPIESYamaha Factory Racing1'43.260
2Casey STONERRepsol Honda Team1'43.552
3Colin EDWARDSMonster Yamaha Tech 31'43.574
4Marco SIMONCELLISan Carlo Honda Gresini1'43.582
5Nicky HAYDENDucati Team1'44.236
6Valentino ROSSIDucati Team1'44.362
7Andrea DOVIZIOSORepsol Honda Team1'44.551
8Hector BARBERAMapfre Aspar Team MotoGP1'45.026
9Jorge LORENZOYamaha Factory Racing1'45.065
10Dani PEDROSARepsol Honda Team1'45.192
11Alvaro BAUTISTARizla Suzuki MotoGP1'45.249
12Cal CRUTCHLOWMonster Yamaha Tech 31'45.368
13Randy DE PUNIETPramac Racing Team1'45.577
14Hiroshi AOYAMASan Carlo Honda Gresini1'46.159
15Loris CAPIROSSIPramac Racing Team1'46.484
16Karel ABRAHAMCardion AB Motoracing1'46.643
17Toni ELIASLCR Honda MotoGP1'47.507
Popularity: 1% [?]