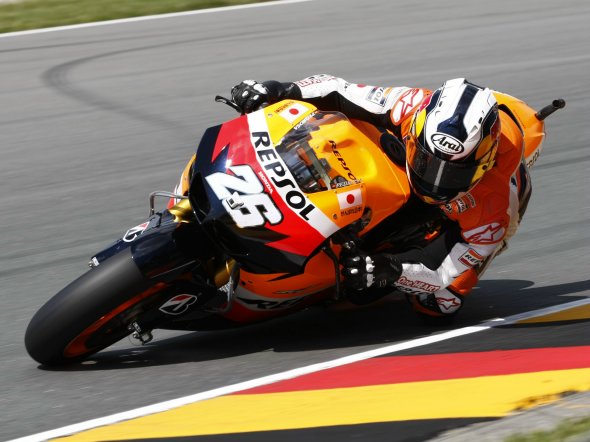 The German MotoGP was a tale of three riders – Stoner, Pedrosa, and Lorenzo.
And it was Dani Pedrosa who made a storming return to form by taking victory over Jorge Lorenzo at Sachsenring.
Pedrosa made his usual fast start to the race, but quickly found himself in a tight group of 6 riders fighting for the lead for the first few laps of the race.
Casey Stoner managed to eventually force his way past Jorge Lorenzo, and looked on for a solid victory as he began to gap the rest of the riders. Despite managing to pull out an early lead, Stoner was reeled back in by Lorenzo and Pedrosa, and Lorenzo took the lead once again just past the halfway point of the race.
Dani Pedrosa stayed close to Lorenzo and took his chance to power past the Yamaha when Lorenzo's front wheel lifted up coming on to the finish straight with only 9 laps to go.
With less than 7 laps remaining, Casey Stoner managed to to get in front of Lorenzo once again. Lorenzo chased hard and made a magnificant pass on Stoner on the final corner to take second place.
Valentino Rossi managed to salvage something from a poor weekend by fighting his way to a 9th place finish after a prolonged battle with Nicky Hayden, and a rejuvenated Alvaro Bautista.
Rossi hinted that he may dump the updated Ducati GP11.1 and return to the original GP11 for the Laguna Seca MotoGP, saying: "I don't know if we can use it before. I don't know if it is possible to have the old bike in Laguna Seca. We haven't decided yet,"
MotoGP Race Results from Sachsenring:
1. Casey Stoner Honda 1m21.681s
2. Dani Pedrosa Honda 1m21.933s + 0.252s
3. Jorge Lorenzo Yamaha 1m21.944s + 0.263s
4. Marco Simoncelli Gresini Honda 1m21.954s + 0.273s
5. Ben Spies Yamaha 1m22.056s + 0.375s
6. Andrea Dovizioso Honda 1m22.157s + 0.476s
7. Colin Edwards Tech 3 Yamaha 1m22.368s + 0.687s
8. Nicky Hayden Ducati 1m22.388s + 0.707s
9. Randy de Puniet Pramac Ducati 1m22.503s + 0.822s
10. Alvaro Bautista Suzuki 1m22.604s + 0.923s
11. Hector Barbera Aspar Ducati 1m22.676s + 0.995s
12. Cal Crutchlow Tech 3 Yamaha 1m22.676s + 0.995s
13. Karel Abraham Cardion Ducati 1m23.164s + 1.483s
14. Toni Elias LCR Honda 1m23.201s + 1.520s
15. Hiroshi Aoyama Gresini Honda 1m23.248s + 1.567s
16. Valentino Rossi Ducati 1m23.320s + 1.639s
17. Sylvain Guintoli Pramac Ducati 1m24.707s + 3.026s
Popularity: 1% [?]