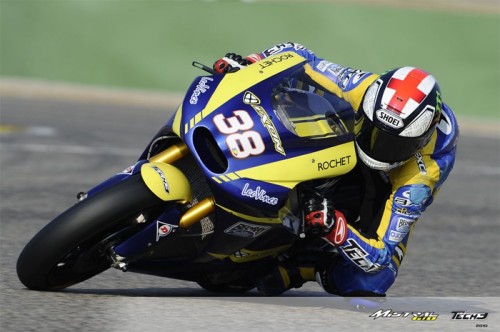 Bradley Smith's quest to score a fourth consecutive Moto2 podium for the Tech 3 Racing Team ended in disappointment at the Sachsenring circuit in Germany earlier today.
Confident of extending his fantastic run of form that saw him claim podium finishes in Silverstone, Assen and Mugello, Smith's challenge for the rostrum was ended just seconds into the 29-lap race when a small mistake in the braking zone for the tight first corner left him no option but to run into the gravel trap.
Relegated down the rankings to 33rd, the British rider then showed his true potential on the impressive Mistral 610 machine to mount a thrilling recovery in front of a capacity crowd at the Sachsenring circuit.
The tight and twisty nature of the 2.281 miles circuit makes overtaking difficult, but Smith used all his race craft to fight his way back into 17th position. A valuable points-scoring finish seemed a certainty as he was poised to break into the top 15 when he lost the front-end at Turn 3 on lap 16. Smith was forced to retire having failed to get his engine running again, ending his proud record of finishing in every race so far this season.
Mike di Meglio also demonstrated his fighting qualities in a race run in temperatures that reached 23 degrees, despite heavy cloud cover.
The French rider superbly fought his way into contention for the points but had to settle for 16th position having just failed to get the better of Claudio Corti on the final lap.
Bradley Smith DNF – 79 points:
"First of all I have to say sorry to the Tech 3 Racing Team. They worked very hard this weekend and they gave me a great machine to do the business on. But I made a slight mistake going into the first corner. I downshifted too many gears and I couldn't get the bike stopped and that was a big mistake on my part. I had a really good pace and felt really confident coming back through the field. My times were in the 1.25s and that was faster than Marquez and Bradl but then I made another silly mistake at Turn 3 and could not get the bike going again. It is a frustrating to go like this into the summer break, but it means that in four weeks I will be highly motivated to return stronger in Brno. I know what we can achieve and what we are capable of and I've no doubt that we can have a great second half of the season."
Mike di Meglio 16th – 7 points:
"I wanted to get some points and on the last lap I tried to attack Corti but I was very close to crashing. I lost some time because of that and it was very difficult to come back and catch him back up for another attempt. The weekend was a lot of hard work. We changed a lot on the bike and gained a lot of experience with different settings that will help for the rest of the season. I'm looking forward to the summer break now and returning fully motivated for the final part of the Championship."
Herve Poncharal – Team Manager:
"We can't hide from the fact that today we are disappointed, but we have to accept that is racing. You can't win a race in the first corner, but you can lose a race in the first corner and unfortunately that's what happened to Bradley. He was really confident that he could pick up some places at the first corner but this time it didn't go to plan. The race was not over, but damaged because of that first small mistake. He was the quickest guy on the track for many laps after that. And when you see that the tenth position finished ten seconds behind, we know he would have easily been in the top ten. But then he had the crash and that was a pity because his recovery was a good show for the fans. We would have liked to go into the summer break with a sweeter taste in the mouth. Bradley learned another lesson today but he shouldn't be too down because the last few races he has been phenomenal and today he could have fought at the front again, so we know he has the speed to compete with the best. Mike had a decent race. He was only just outside the points, but there is a lot of work to do and he needs to have more confidence in himself. Clearly the gap between him and Bradley is too big. I really hope he can come back with fresh motivation from Brno onwards."
Popularity: 1% [?]