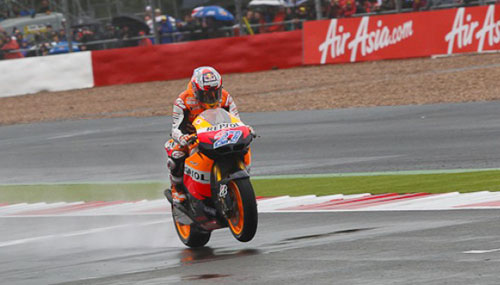 We were going to do a "Stoner 'rains' supreme" gag, but decided against it.
Casey Stoner took a dominant victory at the British MotoGP in the wet and treacherous conditions that caught a number of other riders out.
One of the riders that failed to stay upright was Jorge Lorenzo. Lorenzo highsided out of the race at Abbey on lap 8; his Yamaha rear tyre slid in the wet before getting grip back and highsiding Lorenzo out of 3rd place. Lorenzo's crash, coupled with Stoner's victory means Casey Stoner now has a 18 point lead at the top of the Championship.
Lorenzo's Yamaha team-mate Ben Spies also fell in the wet conditions, as did Marco Simoncelli.
MotoGP Race Results from Silverstone:
1Casey STONERRepsol Honda Team47'53.459
2Andrea DOVIZIOSORepsol Honda Team15.159
3Colin EDWARDSMonster Yamaha Tech 321.48
4Nicky HAYDENDucati Team26.984
5Alvaro BAUTISTARizla Suzuki MotoGP35.569
6Valentino ROSSIDucati Team+1'04.526
7Karel ABRAHAMCardion AB Motoracing+1'32.650
8Toni ELIASLCR Honda MotoGP+1'51.938
9Hiroshi AOYAMASan Carlo Honda Gresini+1'52.350
10Loris CAPIROSSIPramac Racing Team+2'03.312
11Hector BARBERAMapfre Aspar Team MotoGP1 Lap
12Randy DE PUNIETPramac Racing Team1 Lap
Not Classified
Marco SIMONCELLISan Carlo Honda Gresini10 Laps
Jorge LORENZOYamaha Factory Racing12 Laps
Ben SPIESYamaha Factory Racing13 Laps
Popularity: 1% [?]