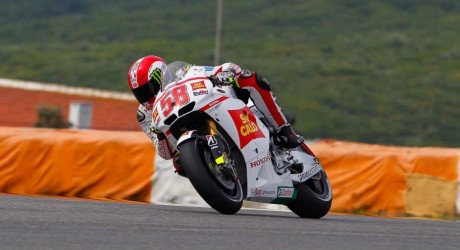 Marco Simoncelli claimed his first MotoGP pole position at Catalunya today by beating Casey Stoner by 0.016secs in a late Qualifying lap.
Stoner had dominated for much of the session, but Simoncelli managed to record a 1m 42.413s time on his second to last lap of the session.
Jorge Lorenzo also left it late, managing to claim third position after a late charge saw him bump Ben Spies down to 4th Position.
Valentino Rossi managed to take his best ever qualifying position so far on a Ducati by taking 7th, and Alvaro Bautista was notable for getting Suzuki in the top 10 for the first time this season in a qualifying session by taking 9th.
Karel Abraham suffered a lowside crash at the very start of the session and walked off with an injured wrist – fortunately he was able to re-join the session later and was deemed fit to race. Tomorrow's grid is already depleted with the absence of Colin Edwards and Dani Pedrosa, and losing another rider would have stripped it down to only 14 starters.
MotoGP Qualifying times from Catalunya:
1Marco SIMONCELLISan Carlo Honda Gresini1'42.413
2Casey STONERRepsol Honda Team1'42.429
3Jorge LORENZOYamaha Factory Racing1'42.728
4Ben SPIESYamaha Factory Racing1'42.742
5Andrea DOVIZIOSORepsol Honda Team1'42.749
6Cal CRUTCHLOWMonster Yamaha Tech 31'43.202
7Valentino ROSSIDucati Team1'43.223
8Nicky HAYDENDucati Team1'43.228
9Alvaro BAUTISTARizla Suzuki MotoGP1'43.447
10Hector BARBERAMapfre Aspar Team MotoGP1'43.656
11Hiroshi AOYAMASan Carlo Honda Gresini1'43.734
12Randy DE PUNIETPramac Racing Team1'43.764
13Loris CAPIROSSIPramac Racing Team1'44.068
14Toni ELIASLCR Honda MotoGP1'44.510
15Karel ABRAHAMCardion AB Motoracing1'45.661
Popularity: 1% [?]