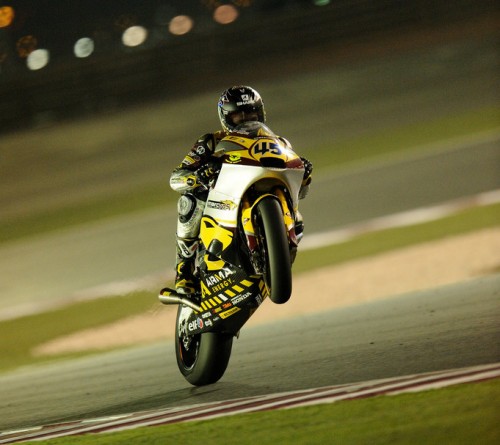 Scott Redding had performed strongly all weekend and looked to be in a solid contender for a strong Moto2 finish when disaster struck in only the second lap of the race and he crashed out.
Highly fancied Scott's challenge ended prematurely when he crashed on the second lap while fighting to break into the top ten. He remounted to finish 31st.
Scott was optimistic of mounting a podium challenge going into the 20-lap race but starting from 10th on the grid, he lost four places in a typically frenetic first lap.
Seeking to swiftly move back into the top ten and hunt down the leading pack, he crashed out on the second lap, the 18-year-old losing the front-end at the second corner.
Determined to atone for his small early mistake, Scott remounted his Suter MMXI machine, and despite losing his left footpeg in the spill, he completed the full race distance to gain vital data and information to help him bounce back when the season resumes in Jerez, Spain on April 3.
Scott Redding #45: Race Position 31st
"I'm really disappointed and this wasn't the way I expected to start the season at all. The new chassis we're running this year has improved the rear traction a lot but I haven't found a good feeling with the front yet. The front is a bit too unpredictable at the moment, so I never really know when I'm going to have a problem. I was pushing into the second corner and without any warning I lost the front. I tried to pick it up on my elbow but it was too late and I was down. The left footpeg broke off and the left handlebar was all bent but I carried on because my guys in the Marc VDS Racing Team have worked really hard all weekend. It is always good to start the season with some good results to build up confidence and I am convinced we will bounce back in Jerez. I was fast at the test recently and, hopefully, I'll be able to show much more of what I'm capable of."
Michael Bartholemy – Team Manager
"We came here aiming for the top ten with Scott and the top 15 with Mika, so for both of them to be outside the points is disappointing. It is unusual to see Scott make a mistake so early in the race and we need to identify the causes of the crash ahead of the next race in Jerez, where we know he is competitive. Scott did well to finish the race with no left footpeg, and despite this problem he was lapping quicker than some of the riders in front of him. Mika was involved in a good battle and we thought he might be able to fight for the points. But like in practice he was unable to keep his fast rhythm after seven or eight laps and we must look to make him more comfortable for longer into the race in Jerez."
Popularity: 1% [?]